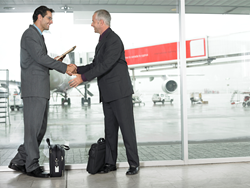 Now with our luxury and VIP services you are able to book your reservation via mobile, desktop or by phone. We designed the website keeping the client in mind and for the convenience of the user so they can travel anywhere around the world.
New York, New York (PRWEB) September 08, 2015
Gateway VIP Services released its new and innovative website, http://www.gatewayvipservices.com, launching quick and easy booking and reservation features for its clients worldwide.
The new website was recently launched by iBoss Advertising, a full service digital marketing agency that developed its sleek and user-friendly design for clients to have mobile, innovative, fast booking and reservation contact for their flights online.
It is no surprise that in today's generation people want to make a reservation at the airport as easy and convenient as possible. Michael Cano, president of Gateway VIP Services, saw the need as a leader in the airline and travel industry, collaborating with iBoss Advertising, to make the vision for his clients a reality.
"Our clients will be pleased with our new site and access to booking online that is quick and easy," said Cano.
"Now with our luxury and VIP services you are able to book your reservation via mobile, desktop or by phone. We designed the website keeping the client in mind and for the convenience of the user so they can travel anywhere around the world knowing Gateway VIP Services has taken care of their travel needs."
On the new site clients have access to the following features:

Quick mobile-friendly calling features
Booking via chatting with a concierge representative via instant message
Sending correspondences and travel documentations with the click of a button
Emailing a concierge representative
Repeat clients have the ability to login through their custom-made client account for re-booking of meet and greet services, sharing documentation, purchase history, or calling a representative online
Social media access and connection
Easy and convenient booking and reservation access
Airline industry news and alerts
Map listing of airports served, worldwide
"It is really exciting to see the branding and vision of Gateway VIP Services become a reality through technology and innovation to transform the travel industry," said Dana Blickensderfer, co-founder of iBoss Advertising.
At the click of a button traveling to and from your arrival and departure gate has never been more accessible and easier. Gateway VIP Services is paving the way in the travel and luxury service industry and will soon offer additional services including but not limited to hotel bookings, car service bookings and more!
What offerings do you receive when booking Gateway VIP Services amenities online?
Clients that request an arrival, departure or connection request are greeted with a meet and greet personal assistant that will escort them to and from their gate at the airport. As well bookings may include: access to VIP lounging; expedited check in/ fast track TSA assistance; boarding pass issuance; escort through security; constant monitoring of airline flights status, as well as flight delay assistance; meal requests; seat assignments; group check-ins; unaccompanied minors assistance, re-booking arrangements; pre-boarding assistance.
In addition, Gateway's concierge services include wheelchair aid, unaccompanied minor assistance, hotel bookings, luxury transportation, to-and-from airport services, and any special services requests.
ABOUT Gateway VIP Services
Gateway VIP Services' provides personal airport arrival, departure and connection assistance and services in every major airport in the world. Gateway VIP Services is a market leader in the travel industry with a 25 years history of dedicated clientele.
Services Include: Full Travel Service Provider; VIP Red Carpet Travel Services; Luxury VIP; Transportation; To and From Airport Service; Fast Track Services; Five Star Transport
Gateway VIP Services provides high-quality, personalized meet and greet services to celebrities, corporations and to the individual traveler worldwide. All of Gateway's clients receive a consistent and pleasant travel experience that they can depend on when they request Gateway VIP Services.
Gateway VIP Services' professional staff from reservation agents, airline representatives, greeters, to concierge take pride in their active role in the travel industry and flying experience. With an ongoing focus on quality and overall customer satisfaction, Gateway ensures each customer a warm, efficient and friendly customer experience.
Gateway offers fast-track service on every leg of a client's journey – from departures, to connections, and to final arrival – and does so regardless if each leg of a journey is with a different airline. For more information visit http://www.gatewayvipservices.com.
About iBoss Advertising
iBoss Advertising is a full-service digital marketing agency devoted to their client's online branding success. iBoss' passion is for the business – making businesses profitable and successful! iBoss produces forward-thinking, innovative, creative, and impactful marketing tactics and plans that stand out from the competition!
iBoss understands that a cohesive and strong foundational brand and online presence fuels business results! Therefore, iBoss Advertising will accomplish just that! iBoss Advertising's mission is to be the leading source for online branding of strategic solutions – i.b.o.s.s. For more information visit: http://www.ibossadv.com.