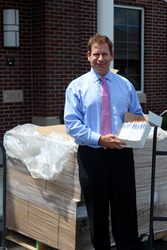 "This program is a way to help our local teachers with the supplies needed, so they can focus on their important role in our children's lives." -William K. Mattar
Buffalo, NY (PRWEB) September 05, 2015
As school supply lists continue to increase and budgets continue to be cut, teachers are finding it harder to keep up with school supply demands for their students. William Mattar Law Offices has found a way to help with their Pencils 4 Schools Campaign. This year, the program was opened up to teachers as well as principals and superintendents as in past years. Because of that, the amount of pencils donated has doubled.
William Mattar Law Offices have many programs focused on helping local schools and the community. With Pencils 4 Schools coming to an end for this year, September starts the Buckle Your Belt Campaign. Teachers can enter to win a pizza party for their class by having students making the pledge to always wear their seat belts in vehicles. For more information on this, click here.
About William Mattar, PC
William Mattar Law Offices have represented car accident injury cases since 1990. The firm is actively involved in community events and has established a number of programs and initiatives such as the Safe & Sober Free Ride Home Program on New Year's Eve, the Carbon Monoxide Detector Giveaway and the Buckle Your Belt Campaign. Learn more about the firm's community involvement, and how you can participate, by visiting http://www.WilliamMattar.com.