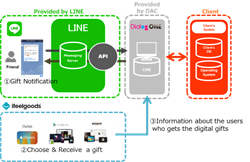 Palo Alto, CA (PRWEB) September 10, 2015
Ifeelgoods announces today a partnership with Japan's leading digital advertising agency, D.A.Consortium(DAC), only two months after the official announcement of its partnership with ITOCHU Corporation of Japan. ITOCHU Corporation facilitated this collaboration and will partner with DAC to create, launch and manage rewards campaigns leveraging the Ifeelgoods platform. Through this alliance, brands will be empowered to seamlessly reward targeted users on LINE mobile messaging application with enticing digital gifts with "LINE Business Connect".
Partnership's Background and Overview
DialogOne by DAC helps brands implement targeted campaigns on various platforms including LINE messaging application (LINE Business Connect). Through this service, brands can easily deliver personalized messages to engage their customers. Since its launch, DialogOne has significantly helped increase customer engagement for many top-tier clients.
Ifeelgoods digital gifting platform has delivered 30+ million digital rewards in 30+ countries. The Ifeelgoods platform provides an end-to-end solution to seamlessly create rewards campaigns and programs: from designing the promotion, ordering rewards, managing inventory and digitally distributing the rewards.
Ifeelgoods' platform features

Easy, Secure Integration and Flow Customization
Ifeelgoods uses Rest APIs for on-demand reward delivery

Rewards provider approval process and creative guidelines are fully streamlined through the Ifeelgoods' platform enabling shorter campaign time-to-market.

The Ifeelgoods platform was built to prevent breaches, hacks and code losses. It has proved its robustness by securely delivering 30 million rewards worldwide.

Thanks to best-in-class inventory management capabilities, turnkey channel distribution and streamlined rewards approval processes; the Ifeelgoods platform helps brands significantly decrease promotion costs.

Flexible Campaign Creation Tools
Promotions can be customized per:
1- Campaign design - Ifeelgoods has built out features to provide continuity with a brand's look and feel
2- Number of rewards - the end-user can get a pre-selected reward or pick the reward he likes the best among a pre-selection of gifts
3- User redemption limitation - Brands can allow user to redeem only one gift or multiple ones
4- Geography - Brands can limit the campaign to local users only

Advanced Analytics & Reports
1- Real-Time Monitoring
2- Traceability
3- End User Information (Location, Gender, Range of Age, Type of Device etc)
About Ifeelgoods
Ifeelgoods' turnkey platform enables companies to set up, launch and monitor rewards promotions and programs within minutes. It helps companies achieve multiple business objectives: customer acquisition, retention, engagement, employee motivation and more. End-users can directly receive rewards from 100+ integrated apps including Mailchimp, Salesforce, SurveyMonkey, Paypal and Zendesk. Gifts delivered come from Ifeelgoods' 100,000+ rewards catalog with content that ranges from movies, songs, games, apps, newspaper subscriptions, and gift cards.
The Ifeelgoods platform has delivered 30+ million rewards across industries worldwide and has powered campaigns for 300 leading brands such as Walmart, GAP and L'Oréal.
Learn more: http://www.ifeelgoods.com/
About "LINE Business Connect"
"Line Business Connect" makes it possible for enterprise businesses to drive engagement with the end user through an API integration.
The API allows for a customized experience that helps enterprise businesses optimize communication with the end user based on the user's actions and messages; thereby promoting a more personal experience with the user.
About D.A.Consortium Inc. (DAC)
D.A.Consortium Inc. (JASDAQ: 4281) is the largest digital media representative in Japan, established in 1996 as a consortium of leading ad agencies, headed by Hakuhodo. By combining different specialties and advantages, DAC takes initiative in the digital advertising market for multi-devices including PC, smart-device, mobile and Connected TV. DAC offers various kinds of services related to digital advertising, as a media representative, that trades advertising spaces in various, premium online media. DAC leads the market by providing advertising planning, consulting, technology solutions, and operation services. DAC is headquartered in Shibuya-ku, Tokyo, with 4 additional offices and 10 main subsidiaries worldwide. For more information, visit
http://www.dac.co.jp/english/.
About ITOCHU
The history of ITOCHU Corporation dates back to 1858 when the Company's founder Chubei Itoh commenced linen trading operations. Since then, ITOCHU has evolved and grown over 150 years.
With approximately 130 bases in 65 countries, ITOCHU, one of the leading sogo shosha, is engaging in domestic trading, import/export, and overseas trading of various products such as textile, machinery, metals, minerals, energy, chemicals, food, information and communications technology, realty, general products, insurance, logistics services, construction, and finance, as well as business investment in Japan and overseas.
Learn more: http://www.itochu.co.jp/en/