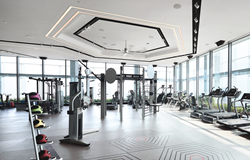 Our equipment is designed to deliver superior performance to particularly discerning audiences
BROOKLYN PARK, Minn. (PRWEB) September 15, 2015
Octane Fitness, LLC, the leading brand of zero-impact cardiovascular equipment, was selected as a premium equipment provider for Gravity, a new, invitation-only luxury health club in Singapore operated by Fitness First Group, a global health club chain founded in the United Kingdom. Opened in August, Gravity is a USD $7.1 million, 17,000-square-foot gym on the top floor of the new CapaitaGreen office tower in the Central Business District. Membership is available to only 999 people.
Fitness First Group describes Gravity as "private and intimate, designed exclusively for C-suite executives and discerning individuals seeking a holistic health and wellness experience in a single location." Invitees pay USD $2250 to join, with monthly dues of approximately USD $450.
The exclusive club offers state-of-the-art fitness equipment, including Octane Fitness' unique LateralX lateral trainer and xR6000 recumbent elliptical trainer.
"The LateralX and the xR6000 are absolutely unmatched in the industry in terms of providing innovative, effective and efficient workouts, and are an ideal fit for clubs like Gravity that pride themselves on the best offerings," said Mark Lowder, vice president of international sales at Octane Fitness. "Our equipment is designed to deliver superior performance to particularly discerning audiences."
Gravity also includes personal fitness coaching, wellness consultations, a lounge, workstations and meeting rooms, with a restaurant scheduled to open later this year. Members can use an app to set their goals, track their fitness progress, check timetables and schedule bookings with Gravity's on-site wellness practitioners.
Fitness First found in a survey of senior executives in Singapore, 94 percent said that they "would prefer a private, premium and personalized environment to help them achieve their health and wellness goals."
Octane's LateralX and xR6000 offer several features that can provide valuable results to Gravity members. Among them:

LateralX – A smooth, 3D motion goes from a vertical elliptical stepping motion to an adjustable side-to-side motion delivers a 27% increase in caloric expenditure and a 30% increase in hip abductor/adductor usage over traditional ellipticals. Plus, the patented Converging Path and MultiGrip handlebars better engage the upper body, and advanced regimens like MMA and 30:30 Interval add challenge and variety.
xR6000 – This unique recumbent elliptical uses PowerStroke technology to help exercisers burn 23% more calories and foster 343% more glute activity than recumbent bikes. Its Active Seat Position maximizes comfort and muscle use, and Workout Boosters like Muscle Endurance, Leg Press and Chest Press incorporate strength training into cardio sessions for effectiveness.
Octane Fitness Background
Relentlessly fueled to reinvent zero-impact cardiovascular exercise, Octane Fitness has perfected the elliptical machine, introduced a new category with the xRide® recumbent elliptical, designed strength-infused cardio with the unique CROSS CiRCUIT®, created exercise in a new direction with the LateralX®, reinvented running with the Zero Runner®, optimized cross training with the XT-One™ that does it all and is leading smarter training with SmartLink™. Defined by standout innovations, and driven to deliver more effective, efficient and rewarding workouts, Octane is engineering elliptical domination.
About Gravity
Gravity is an exclusive private member's club designed to cater to senior executives and individuals seeking a highly personalised holistic health and wellness solution in a single location. Gravity is an all-encompassing wellness haven, combining exercise, wellness therapy and nutrition programmes with business amenities delivered through highly-personalised service.
Every aspect of well-being is taken care of seamlessly with an in-house doctor dispensing advice and health tests, wellness practitioners that include massage therapists, nutritionists and osteopaths, and certified fitness experts all working together. Located at the top floors of CapitaGreen in Singapore, members also have exclusive access to the Breakfast Club at Gravity's restaurant, Artemis, on the 40th floor when the restaurant opens in October 2015. For more information, visit http://www.Gravityclub.com.
# # #
Find Octane at http://www.Facebook.com/OctaneFitness. Images are available; contact Julie King at 1.847.638.1582 or jking(at)octanefitness.com. For more information, contact the company at 1-888-OCTANE4 (1-888-628-2634) or http://www.octanefitness.com. Octane Fitness, CROSS CiRCUIT, LateralX, xRide and Zero Runner are registered trademarks of Octane Fitness. All other trademarks are protected by their respective owners.