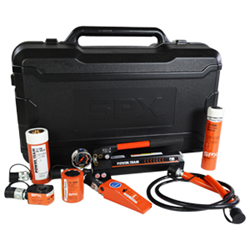 Rockford, IL, USA; (PRWEB) September 08, 2015
The cylinders in each kit range in style, retracted height, and stroke in order to meet the broadest application needs. The kits include a general purpose cylinder, a hollow center, a low profile, and a shorty cylinder. The collapsed height for the 10 ton kit ranges from 1 ¾" to 9 ¾", and the 25 ton kit ranges from 2 5/16" to 10 ¾". Both include strokes ranging from approximately ½" to 6" respectively. All of these cylinders are single-acting spring return.
The 10 ton version comes standard with a blow molded case for easy transportation and storage of all of its contents. Each component in the kit has its own compartment, making it easy to find and store when needed. The hand pump included with the 10 ton kit comes preassembled with the t-adaptor, gauge, and coupler. Power Team also offers several optional storage boxes that can be purchased separately to house the contents of the 25 ton kit.
Both the 10 ton and 25 ton start up kits come in both CE versions for Europe, and non-CE versions for the rest of the world.
For more information, please visit http://www.powerteam.com or click here: http://www.spxflow.com/en/multimedia-library/pdf/spx-brand-pdf/industrial/power-team/product-catalogues/SPX_PowerTeam_StartupKits_PTSK1508_EN_r2.pdf