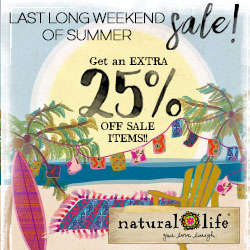 Jacksonville, Florida (PRWEB) September 04, 2015
Natural Life is pleased to announce their annual Labor Day sale, featuring an extra 25% off sale items using the coupon code "LABORDAY15".
Natural Life, provider of boho chic clothing, accessories, and home décor items, is pleased to announce dates for their annual Labor Day Sale. The sale will run September 3-7 and discounts are valid in store and online.
This year the annual Labor Day sale will focus on a wide range of products from a variety of departments including clothing, accessories, gifts, and home & auto décor. Natural Life is featuring items ideal for fall style including multi-purpose scarves. From infinity to standard, scarves serve are a fashionable and functional piece of transitional fashion in the fall months. Customers will find a variety of scarves included in this sale. Clothing items ranging from tunics to tops will be featured in the promotion, and many skirts will also be featured in the sale, perfect for fall and back to campus!
In anticipation of increased traffic, Natural Life has recently added hundreds of items to the sale section of their website including popular wooden name keepsakes, trinket dishes, and large wall art like the popular Big Bungalow Art. These items are ideal for decorating a bedroom, dorm room, or apartment for fall.
In addition, customers will find great deals on marked down popular bestsellers including wooden friendship frames, a variety of athletic and fashion headbands, and toothbrush covers. Discounts range from 15% to 70% off of retail prices, with an extra 25% off during the sale dates. Deepest discounts include up to 70% off of items such as the "Love" Multicolor tote and select dazzle headbands.
As always, Natural Life offers everyday free shipping on all orders over $60. Customers can get even more bang for their buck by signing up for the company's free newsletter, packed with information on upcoming sales and special offers. Customers are also encouraged to text the code "LIVE HAPPY" to 85923 for a special gift from Natural Life.
About Natural Life
Natural Life is a lifestyle brand that makes irresistible treasures with a free-spirit style and positive vibe. Natural Life is passionate about making a difference in the world through their products as well as their GiveBack efforts. A portion of profits are donated to non-profit organizations they've carefully chosen that share their mission to make the world a better place by inspiring people to give and live happy. Natural Life products can be found online and in over 6000 retailers nationally and internationally.