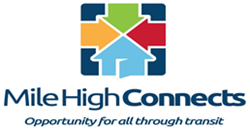 Denver, CO (PRWEB) September 04, 2015
Mile High Connects today releases "First and Last Mile Connections," a groundbreaking report that highlights the ways in which a lack of funding for sidewalks, bike paths, and other vital supports severely limit access to public transportation for many users.
According to the report, while the Denver region spends billions of dollars to expand public transit, there's very little support for safe and convenient access to the transit stations. As a result, all residents aren't getting the full benefit of a major public investment.
Among the key findings reported in "First and Last Mile Connections":
-- First- and last-mile connections to transit are woefully inadequate and seriously underfunded in the Denver region.
-- As a result, transit ridership is lower than it could be and the region is missing out on economic development opportunities.
-- The greatest need is for better pedestrian infrastructure, including sidewalks, safe crossings, and wayfinding signs.
-- Low-income communities and communities of color typically have the poorest quality or missing sidewalks, minimal bike facilities, and safety issues due to poor lighting.
The full report is available for download via http://www.milehighconnects.org.
"First and Last Mile Connections" was compiled by Mile High Connects, WalkDenver, BBC Research & Consulting, NRDC, and FRESC, with participation from local governments, DRCOG, RTD, CDOT, business improvement districts, transportation management organizations, and private developers.
About Mile High Connects
Mile High Connects is a multi-sector collaborative working to ensure that the Metro Denver regional transit system fosters communities that offer all residents the opportunity for a high quality of life. The partnership formed in 2011 to ensure that FasTracks, the region's $7.8 billion transit build-out, benefits low-income communities and communities of color by connecting them to affordable housing healthy environments, quality education, and good-paying jobs.