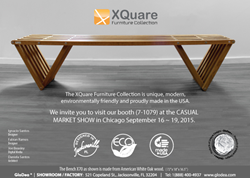 "GloDea is headquartered in Jacksonville, Florida which includes a furniture manufacturing facility. We are very pleased that this collection is being offered through our retailers, partners and on our website."
Jacksonville, FL (PRWEB) September 08, 2015
Dan Miller, GloDea's President of North America Business, has announced that the company's distinctive line of XQuare wood furniture is expanding models to include a new larger X70 bench and X45 chair made with White Oak.
"We are very excited that our hardwood lines will premiere at the Casual Market in Chicago September 16-19."
"GloDea manufactures the XQuare furniture in Jacksonville, Florida. We are very pleased to announce that the USA made XQuare line in White Oak is now available as an option through our retailers or on our website."
The GloDea product lines of wood furniture are also expanding to include the Hewanna collection. It is a new designer style of furniture made of Eucalyptus wood offered in a single or double chair. Future models will include a lounge chair.
Hewanna is a collection designed by two GloDea designers, Fabian Ramos and Ignacio Santos in Jacksonville, FL. The inspiration for this collection was derived from the Timucuas American Indian tribe native to North Florida. Hewanna means chair in their language.
GloDea is expanding into new hardwood collections of furniture for a stronger presence in retail stores and for interior designers. These are the first of many to follow.
GloDea is known as a designer company. GloDea designs innovative and competitively priced consumer products including multiple furniture lines, unique promotional items and unique technology products.
GloDea's commitment to quality and customer satisfaction has been instrumental in growing the business in North America and the globe. GloDea continues to build productive relationships with retailers and expand sales and licensing internationally.
For additional information visit us at shop.glodea.com or call us at 888-400-4937 or email us at customercare(at)glodea(dot)com.
http://shop.glodea.com/