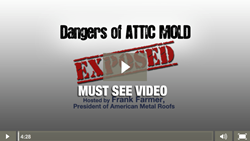 "We at American Metal Roofs are deeply concerned for you and your health and your home." -Frank Farmer- President, American Metal Roofs
Flint, Michigan (PRWEB) September 04, 2015
As homes are becoming more air tight due to better windows and doors, the reduction in ventilation often becomes a problem that results in dangerous attic mold. Frank Farmer, founder and CEO of American Metal Roofs, has released an important video to educate homeowners and help protect their families and their homes. Farmer's four and a half minute video focuses on the new dangers of attic mold build up.
As a nationally recognized leader in the home improvement industry, Farmer has witnessed many homeowners who have been subjected to serious health issues and costly home damage due to moisture build up in attics.
"We at American Metal Roofs are deeply concerned for you and your health and your home." -Frank Farmer- American Metal Roofs
In Frank's video, he illustrates how homes are now outfitted with better windows, doors and insulation designed to save energy. He explains how this often results in poor house ventilation that will ultimately allow mold to manifest and spread in attics. Frank's must-see video, alerts viewers about the warning signs of excessive attic moisture and helps consumers understand when to call in experts to analyze potential threats.
You can see Frank's video here.
About American Metal Roofs:
Starting in 1986, Frank Farmer built American Metal Roofs from the ground up. Guided by the company's core values of God first, family second and business third, Frank has dedicated his career to helping families. This company not only providing cost saving roofing solutions that are environmentally friendly but families stay protected and healthy through education.
American Metal Roofs provides residential and commercial metal roofing products and services for the Michigan Lower Peninsula. American Metal Roofs specializes in installing metal roofing from the leading manufacturers of permanent metal roofing.