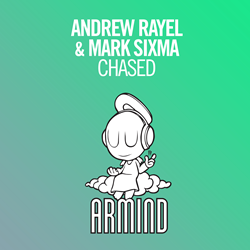 The single by Andrew Rayel & Mark Sixma, "Chased," delivers sonic fireworks in a tight package.
New York, NY (PRWEB) September 04, 2015
Arguably two of the most talented young DJs and producers to come out of the Armada Music electronic dance music empire are Moldova's Andrew Rayel and the Netherlands' Mark Sixma. Armada Music kingpin Armin van Buuren has often described Rayel as being, "The future of trance," while Sixma has a superb ability to craft remarkably impactful sounds in the recording studio. At last, the two join forces on a collaboration for Armin's 'A State of Trance at Ushuaïa, Ibiza 2015' mix album with a single titled, "Chased" (Armind). "Chased" is out now.
The Original Mix instantly seizes the listener with a warlike percussion that assails the intro as it builds to a climax with tension-inducing synths. A strong, aggressive-sounding track without vocals, this is a colossal festival tune nonetheless. The dissonant synthesizer riff and distorted melodic pattern morph into a groovy chorus with dirty production. Here is a tune that is only at home during peak-time on a packed dancefloor and it offers the shuddering, eccentric sound craved by young festival-goers everywhere. This edit starts-off at high-energy and builds from there, with an interlude reminiscent of Josh Wink's "Higher State of Consciousness." It's also got a big, booming, boisterous bassline and vicious beat. (The title of the track is a reference to Andrew Rayel and Mark Sixma's collaboration and recent signing to Chased Management, an artist management company affiliated with Armada Music.)
The Radio Edit cuts directly to the meat on the bone and dives straight to the discordant piano riff. The Radio Edit maintains the precise integrity of the Original Mix and delivers the same sonic fireworks in a tighter package. This edit is intense.
Classically trained, Andrew Rayel is regularly referred to as a musical prodigy though he himself demurs from the flattery. With a single-minded focus on composing the most influential electronic dance music (EDM) he can, Rayel is one of his own harshest critics. Signed by Armin van Buuren to the Armada Music record label, the accolades continue to pour in. The current full-length studio album by Rayel is Find Your Harmony (Armada Music). Recent singles by Andrew Rayel include "Dark Warrior," "EIFORYA" with Armin van Buuren, "Daylight" featuring Jonny Rose and "Mimesis" with Alexander Popov. As a live DJ, Rayel gives a high-octane, physically energetic performance that is consistent with his young age. He has performed at Tomorrowland in Belgium; Ultra Music Festival in Miami on the A State of Trance (ASOT) stage; Creamfields in the UK; Electric Daisy Carnival (EDC) in Las Vegas, as well as at glitzy U.S. nightclubs Marquee New York and Marquee Nightclub & Dayclub in Las Vegas.
Mark Sixma got his big break on the world stage with exposure from Armin van Buuren on the latter's A State of Trance compilations and weekly radio show of the same name. As a live DJ, Sixma hit the then-highpoint of his career performing on the ASOT550 and ASOT650 tours last year. Since then, Sixma has gone on to perform at major music festivals including Ultra Music Festival in Miami on the A State of Trance (ASOT) stage; Stereosonic throughout Australia; and this month, at TomorrowWorld in Atlanta. Mark Sixma is well known for his dancefloor-slaughtering tracks, including "Requiem," "Panta Rhei" with Armin van Buuren, the Mark Sixma Remix of "Another You" by Armin van Buuren featuring Mr. Probz, and Sixma's reinterpretation of Samuel Barber's "Adagio For Strings."
Spotify: https://open.spotify.com/track/2SIIVI81mlmBOPgwwVCIZg
iTunes: https://itunes.apple.com/us/album/chased-radio-edit/id1022415117?i=1022415868
For more information on Armin van Buuren, Andrew Rayel, Mark Sixma and Armada Music in the U.S., contact EMILY TAN Media Relations, +1(917) 318-3758, EmilyEmilyTan(at)aol(dot)com. Visit http://www.ArmadaMusic.com. Follow EMILY TAN Media Relations on Twitter @EmilyEmilyTan.
# # #