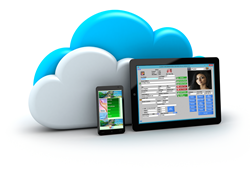 "Our cloud-based application will allow our clients the ability to adapt to changing workplace conditions and customer preferences without losing any functionality."
Los Angeles, CA (PRWEB) October 06, 2015
ProSolutions Software, a leader in business management software for the salon and spa vertical, has developed a cloud-based version of their award-winning solution, Transcend, making the most powerful all-in-one software available from anywhere.
Cloud technologies offer salons and spas the ability to be where their clients are: online. Today, more and more customers expect self-service options through user-friendly interfaces when it comes to booking services and purchasing products. Customers also want to communicate with businesses at their convenience by email and text message, without the hassle of telephone calls. Transcend Online allows customers to communicate and interact directly with salons and spas through customer-facing applications that are fully integrated with their business management software that is always "on" in the cloud.
Transcend is an all-in-one solution that offers fully integrated point-of-sale, appointment book, inventory, marketing, employee and client management for salons and spas around the world. With the launch of Transcend Online, a complete cloud-based solution, salons and spas can manage their business from anywhere, on any device, providing more flexibility for owners and managers in today's fast-paced environment with the full performance of a traditional installed software. Transcend Online also backs up data automatically and in real-time, securely storing critical business information on Amazon Web Services' datacenters located within the USA.
"Our cloud-based application will allow our clients the ability to adapt to changing workplace conditions and customer preferences without losing any functionality," says Brent Wiggins, CEO of ProSolutions Software. "The added benefits of secure data backups and online engagement, without an increase in subscription costs, makes Transcend Online low-risk, high-reward."
About ProSolutions Software
ProSolutions Software is an industry leader in providing quality salon and spa management software to thousands of businesses worldwide. Based in Los Angeles, ProSolutions has worked closely with top beauty business owners, managers and consultants to create Transcend, a comprehensive, personalized software solution for salons, spas and resort spas. Transcend Online is the only software recommended by the Day Spa Association and celebrity stylist, Kim Kimble. For more information, visit http://www.prosolutionssoftware.com.