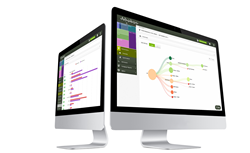 Abakus's solutions continued to break new ground within the past year, benefiting its customers around the globe
EMERYVILLE, CA (PRWEB) September 08, 2015
CIOReview (http://www.cioreview.com) has chosen Abakus (abakus.me), a pioneer in accurate, scalable marketing attribution and optimization software, as the feature company within its 20 Most Promising Digital Marketing Providers 2015. The position is based on the evaluation of Abakus's aim to replace the conventional marketing model building techniques with its accurate, scalable marketing attribution software solution to measure and optimize marketing resources.
The annual list of companies is selected by a panel of experts and members of CIOReview's editorial board to recognize and promote technology entrepreneurship. "Abakus has been on our radar for some time for stirring a revolution in the Digital Marketing space, and we are happy to showcase them this year due to their continuing excellence in delivering top-notch technology-driven solutions," said Jeevan George, Managing Editor, CIOReview. "Abakus's solutions continued to break new ground within the past year, benefiting its customers around the globe, and we're excited to have them featured on our top companies list."
"Abakus is honored to be recognized by CIOReview's panel of experts and thought leaders," said Alex Saldanha, CEO and Co-founder, Abakus. "This award is a recognition of our work helping brands and agencies achieve attribution and optimization success. Our easy-to-use, yet comprehensive software platform is empowering marketers to obtain real-time, actionable insights from their marketing data."
Abakus has elevated marketing attribution by allowing the marketer to have transparency into not only the allocation of accurate attribution, but also into actionable, predictive optimization. "Abakus allows the marketer to easily understand the performance of their entire marketing plan at a granular level and gives them a clear path to improved ROI", said Graham Ratcliffe, Vice President of Product and Marketing, Abakus. "Our software approach puts the marketer in the driver's seat, allowing them to make educated and timely decisions about marketing optimization."
About Abakus
Abakus makes marketing measurement and optimization easy with software. Abakus' patented technology platform analyses marketing activity, across all channels, in real-time. It explains what is working, why, and how to optimize for performance. The world's biggest brands and advertising agencies use Abakus to increase marketing ROI by working smarter, not harder. Abakus is headquartered in Emeryville, CA. To learn more about how you can unleash your inner data scientist visit abakus.me.
About CIOReview
CIOReview constantly endeavors to identify "The Best" in a variety of areas important to tech business. Through nominations and consultations with industry leaders, our editors choose the best in different domains. The Digital Marketing Special Edition is an annual listing of 20 Most Promising Digital Marketing Solution Providers in the U.S.