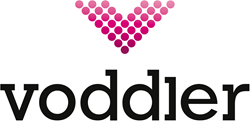 "The combination of the Vimond Platform and Vnet™ brings a whole new paradigm to video streaming and Quality of Service, particularly to mobile viewers in regions with poor or little network infrastructure."
Stockholm, Sweden and Bergen, Norway (PRWEB) September 07, 2015
Voddler Group Partners with Vimond Media Solutions for Global Impact.
Bergen and Stockholm, September 7th, 2015 - Voddler Group AB, the cloud-streaming innovator, today announced that it is entering into a Worldwide Partnership with Vimond Media Solutions to change the way video is streamed and consumed by users around the globe.
The partnership leverages Voddler's award winning and cutting-edge proprietary VoddlerNet™ hybrid delivery network and Vimond's award-winning and end-to-end online video platform, the Vimond Platform. The convergence of these two technologies will enable unprecedented levels of speed, quality of service, and efficiency in on-demand multi-screen video delivery.
"The growth of video content consumption globally has passed a critical inflection point, where demand is outpacing the ability to deliver great content in a great way. Video consumers around the world are demanding constant access to premium and original content, with a consistently excellent playback experience", said Voddler Group's CEO, Adam H. Lewis. "The combination of the Vimond Platform and VoddlerNet™ brings a whole new paradigm to video streaming and Quality of Service, particularly to mobile viewers in regions with poor or little network infrastructure. Vimond's Platform and Control Center technologies perfectly complements our massively scaling video streaming solution VoddlerNet™. Our commitment to delivering exceptional media experiences to consumers worldwide while aggressively reducing our customer's video delivery costs is very much enhanced by this partnership."
The partnership will focus on combining the ability of Vimond to deliver a highly scalable and modular online video platform with exception expansion, with VoddlerNet™'s ability to provide dramatically enhanced Quality of Service (QoS) and virtually limitless user scalability into its secure mesh network. The impact is that more consumers will be able to enjoy a greater video experience, anywhere, anytime.
"We believe in delivering a great video experience content from a robust infrastructure, and we designed the Vimond Platform to provide just such an infrastructure. Vimond is very excited to welcome Voddler to our consortium of global partners, and to combine its VoddlerNet™ technology with Vimond Platform to provide exceptional OTT video delivery and experience. This partnership will empower our service operators to deliver an amazing video experience on any device, at any time," said Helge Høibraaten, Vimond CEO.
"With more video streamed to mobile devices than ever before, hybrid delivery networks are becoming critically important," said Miguel Silva, Vimond's EVP of Sales and Marketing. "Enabling Voddler's VoddlerNet™ with the Vimond Platform and Control Center ensures that high quality content is seamlessly delivered, regardless of the network used to access content. We are excited to see the experience-changing multi-screen video distribution solution created by two leading innovators in the space."
***
About Voddler
Based in Stockholm, Sweden, Voddler Group AB is the creator of the next generation video streaming solution VoddlerNet™, the world's best cloud-based streaming technology. VoddlerNet™, extends our partner's streaming solutions globally, delivering an unparalleled film viewing experience to any Internet-connected device with stunning quality of service at a fraction of today's streaming cost. VoddlerNet™ integrates seamlessly with existing streaming solutions to unleash their full potential. VoddlerNet™ has streamed millions of movies from dozens of content owners, including the Hollywood majors, to millions of users worldwide.
For more information, contact:
Voddler PR contact:
Filippa Hasselström, VP of Product Marketing
Filippa(dot)Hasselström(at)voddler(dot)com
***
About Vimond Media Solutions
Vimond Media Solutions AS (http://www.vimond.com) develops and markets tools for the new
world of TV. Established in 2011 and based in Bergen, Norway, Vimond powers services
from world leading online TV brands, such as Comcast, Thomson Reuters, TV 2, iflix, and
leading broadcasters and service providers globally. We help these companies adapt and
grow a rapidly changing digital audience by providing unique technology and expertise.
Vimond Media Solutions Press Contact:
Miguel Silva, EVP Sales & Marketing
Tel: +47 951 31 604
E-mail: miguel(at)vimond(dot)com
Agency Contact:
Fiorenza Mella
Xpresso Communications
Tel: +31 (0)71 523 82 10
Email: fiorenza(at)xpressocommunications(dot)com