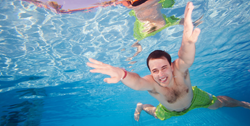 'A heated outdoor pool, a pool with an enclosure or indoor pool can be used all year round'
(PRWEB UK) 6 September 2015
As Britain looks forward to a predicted Indian summer, the attraction of cooling off in an inviting stretch of water is overwhelming for many people and helps to keep feelings of summertime relaxation and healthy living alive.
Pool ownership is on the rise, with an estimated 240,000 in-ground and (top end) above ground residential pools in the UK and with swimming pool ownership ranking in the top ten status symbols throughout Britain, pools are becoming the latest 'must-have' feature in British homes and gardens.
Diving into the inviting waters of a swimming pool at home is one of life's great pleasures. So how do prospective purchasers ensure they get a seamless integration of their dream pool in their homes and gardens, complementing their property and the surrounding landscape?
SPATA – The Swimming Pool and Allied Trades Association are the number one resource for British consumers looking for information on pool ownership. The SPATA website (http://www.spata.co.uk), is setup to help consumers find out all they need about pool ownership, as well as, where to find SPATA approved companies. Choosing a SPATA member to build your swimming pool can provide the reassurance needed to make owning your dream pool at home a reality.
When considering adding a swimming pool or spa to a home, there are an enormous number of products to choose from in the UK market. Buyers should consider whether they want to have a safety device included in their pool build, such as a cover, enclosure, pool fence and an alarm. Any of these features will enhance the protection of a swimming pool, but actively supervising the pool while in use is key.
Time spent in planning a dream pool is never wasted; this helps to safeguard the build "wish list", against the planned budget. An easy pointer is; the larger the pool dimensions, the more expensive it will be to build, and the larger the volume of water contained in the pool, the greater the operating costs. Choose a contractor with care. Ask yourself; Do they build to industry standards and will they behave ethically?
Buy with Confidence
As the UK trade association for swimming pools, spas, sauna and steam, SPATA works tirelessly to ensure that it provides a service that consumers can rely on to put them in contact with reputable companies who provide superior service. The companies work to industry standards, based on legislation and Codes of Practice, together with a Code of Ethics. Buying from SPATA member should ensure that consumers get the best advice and find the item they wish to purchase that suits their needs and budget requirements.
A well planned and installed pool, or spa will give years of pleasure to the owner, their family and friends and should enhance health and enjoyment for all users. Pool or spa owners looking to refurbish or upgrade, or customers looking to buy a pool will find help from the UK wet leisure trade associations who are on hand to offer advice and guidance. Visit http://www.spata.co.uk.