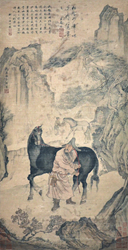 "The Chinese paintings collection reflect our leadership position in the category." - Mary Ann Lum, Gallery Director
New York, NY (PRWEB) September 07, 2015
An exceptionally strong collection of Chinese scroll paintings - ancient, mid-century modern and contemporary - leads Gianguan Auctions' Fall Asia Week sale on September 12th. It is bookended by fine collections of carved jades, Chinese porcelains and decorative items.
Among the highlights is Lot 105, "The Steed and Groom," by Zhao Mengfu (1254-1322), the prince who broke from tradition to experiment with depth in Chinese painting. In this ink-and-color-on paper rocky outcroppings are used to frame a stone-black stallion and handler. The pre-sale estimate is $10,000,000 to $15,000,000. 
Considered one of the four great masters of the Yuan Dynasty, Huang Gongwang (1269-1354) created "Rain Falling on Mist Forest," Lot 102, The landscape is inscribed and signed Dachi Daoren, one of the artist's names, and has one artist seal. Ten collectors' seals, a frontispiece by Wen Peng and a colophon by Xiang Yuanbian drive the value to the $4,000,000 to $6,000,000 range.
The epitome of Ming Dynasty Buddhist art is Qiu Ying's "Venerable Buddha," Lot 91. Signed and with one artist seal, nine Emperors' seals and six collectors' seals, the painting is valued at $2,000,000 to $3,000,000.
The contemporary Buddhist art highlight is Lot 79, HH Dorje Chang Buddha III's 2013 "Loquat". The ink-on-paper painting has the bell seal of Droje Chang Buddha III and a three-dimensional finger print Gui Yuan.  It is expected to fetch $9,000,000.
Xu Beihong, the 20th century master known as the father of modern Chinese art, is represented by Lot 110, "Two Horses." The 1944 work is inscribed and signed Beihong. It has three artists' seals. Bidding begins at $200,000 and may go as high as $300,000.
In 1939, Xu Beihong staged a war benefit at Victoria Memorial Hall in Singapore. Among the artists showcased was the 19th century painter Ren Bonian aka Ren Yi. (1940-1896). Lot 87, "A Traveling Master", foreshadows the color splash techniques of the mid-20th century. The work is estimated at $12,000-$20,000.
The vibrant color splashed works of mid-century Chinese artists include Lot 101, "Spring in Southern China" by Wu Guanzhong. Its estimate is $40,000-$60,000. Lot 86, Liu Halsu's "Mountain Springs," has roiling bursts of blue, white, black and fiery pink. Signed Liu Haisu at 89, bearing one artist seal, it will bring $8,000-$15,000.
Lot 97, Qi Baishi's "Insect on Leaf in Water" is a minimalist work in gentle strokes of an ephemeral insect rafting on a leaf as a dragonfly circles above.  It is signed and has two artist seals. It will see $50,000-$60,000.
Leading the decorative arts session of the sale is Lot 253, a rare painted clay-coated linen figure of Guanyin. The value on the "bodiless" seated figure with a rich-red lacquer patina is $8,000-$15,000.
From the archaic Liangzhu culture, Lot 195 is an animal bone carved with Taotie mask and pictogram. it is believed to be a Royal Decree used to more troops. It's price: $10,000 - $20,000.
Exceptional antique ceramics include Lot 214, a Qing Doucai Bajixiang double-gourd vase with polychrome scrolls highlighting Bajixiang emblems. With blue reign mark and Qing six-character mark, the pre-sale estimate is $120,000 to $180,000.  
The marquee carved jade item is Lot 233, a diminutive pair of Mughal style bowls just 6-inches wide and 2-inches tall. Translucent and carved in low relief, the bowl is $15,000 - $30,000.
The powerful dragon makes a dramatic appearance at Lot 167 on a massive pair of egg-yellow Meiping. Nine dragons of green and aubergine are set among flaming clouds and flames. Inscribed with the Ming Dynasty Kangxi six-character mark and of the period, the pair is $30,000 to $40,000.
Lot 255, a Ming blue and white ovoid vase features two phoenixes, king of birds and symbolic of good fortune and opportunity. Of the period and bearing the Xuande six-charter mark the price is $30,000-$40,000.
Representative of the scholar's quest is Lot 270, a rare Ji-Yun tortoise shell box with a poem inscribed in gilt on the cover. Of the Qing Dynasty, the box bears the Jiaqing four-character mark. A collector will be lucky to get it for $5,000 to $8,000.
The catalog can be viewed online. The sale is Saturday, September 12th. It will be conducted live at Gianguan Auctions, 295 Madison Avenue. Online bidding takes place on invaluable.com, Liveauctioneers.com, and on the Gianguan website. For details and condition reports, please call 212-226-2660.