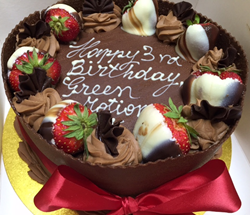 United Kingdom (PRWEB UK) 6 September 2015
The Green Motion car hire master UK franchisee who acquired the operational rights for the country in 2012 today celebrated their 3rd birthday.
Since purchasing the franchise, John Ryan and his management team have steadily developed the business, seeing its total car hire fleet nearly doubling during the period, making Green Motion a genuine force with the UK car rental industry.
Green Motion in the United Kingdom offers car hire at the majority of the major airports including London Heathrow, London Stansted, London Luton, London City, London Gatwick, Edinburgh International, Liverpool International, Manchester International, Belfast International, East Midlands, Birmingham International and Bristol.
In addition to their airport car hire operations, Green Motion in the UK also has a developing downtown presence delivering car rental at key metropolitan conurbations including London Central, Belfast Central, Birmingham Central, Manchester Central, Leicester Central and Liverpool Central.
Green Motion in the UK provides both leisure and corporate car hire services and offers a superb range of low CO2 and fuel efficient vehicles for hire from leading manufacturers including Peugeot, BMW, Mercedes, Volkswagen and Audi.
You can also hire the all electric Nissan Leaf from a selected number of car hire locations throughout the United Kingdom from as far North as Liverpool and Manchester to Central London in the South.
Green Motion is continually looking to expand its car hire franchise network throughout the United Kingdom and now has opportunities for dedicated business professionals in some key open points including Glasgow Airport, Leeds / Bradford Airport, Newcastle Airport and Southampton Airport.
For further information on hiring a car in the United Kingdom from Green Motion or enquiring regarding the ownership and operation of a car rental franchise please visit greenmotion.com or call us on 0333 888 4001.