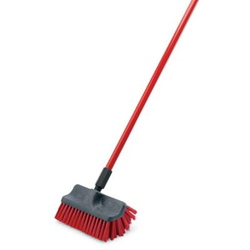 Arcola, IL (PRWEB) September 04, 2015
As summer winds down, homeowners will take advantage of the remaining pleasant weather days to clean outdoor areas and tools in order to prepare for the colder months. The Libman Company, a 119 year-old U.S. manufacturer of household and commercial cleaning goods, offers an array of heavy-duty products to optimize tasks to help homeowners seamlessly transition from summer to winter.
Making sure that outdoor machines, tools and furniture are properly cleaned and stored for the winter is a priority. Libman recommends tackling these end-of-summer cleaning projects:
1) Lawn Mower – As with any appliance or tool, keeping the lawn mower clean helps ensure optimum functionality in addition to extending the life of the product. Use the Libman Extra Large Microfiber Sponge to remove dried mud and grass from the unit.
2) Air Conditioner – Wipe down and remove the window unit air conditioner to protect it from winter damage but to also ensure that warm indoor air doesn't leak out through the cracks between the unit and window. For central air, secure a plastic cover over the unit.
3) Garage Floor – Sweep out dirt, old grass clippings and other debris that's accumulated in your garage. For a larger area, try the heavy-duty Libman 18" Multi-Surface Push Broom and for less surface space, the Libman Wide Angle Broom is ideal for the task. For tough oil stains, the Libman Dual Surface Scrub Brush has a 59" handle that eliminates bending.
4) Lawn and Gardening Tools – Scrub off caked-on dirt from a season of weeding and gardening to prevent rust accumulation and to keep tools dry and ready for spring. Store small tools together in a bucket or gardening bag.
5) Patio Furniture – Clean off patio furniture and outdoor play equipment Libman's Dish Scrub & Soap Dispenser filled with a general all-purpose cleaner or dish soap. If indoor storage isn't possible for the winter season, cover items with plastic covering to prevent damage and rust.
6) Deck, Patio and Porch – Remove stains, dried candle wax and other debris from your patio or deck with a mop and bucket of hot water mixed with dishwashing soap or flaked laundry detergent. The Libman Cotton Deck Mop is a traditional cut-end, yarn style deck mop and works well with the Libman 4-gallon Bucket with Wringer.
Taking the time to clean summer tools and outdoor areas now helps make spring cleaning less stressful and time-consuming. For more cleaning tips visit [http://libman.com/cleaning-tips.aspx.
About The Libman Company
The Libman Company is a family-owned company that has been making quality cleaning tools since 1896. The company manufactures products from brooms and mops to more specialized tools for kitchen and bathroom cleaning and industrial uses. Libman proudly manufactures most of their products in the United States, including the company's well-known Tornado® Mop. For more information about the Libman Company, please visit http://www.libman.com.
TO REQUEST PRODUCT SAMPLES OR HIGH RES IMAGES
Please contact Stacey Vaselaney at:
(216) 905-0908 or slvaselaney(at)slvpr(dot)com