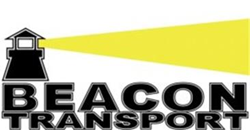 This is a way we can thank all our drivers for their hard work and dedication.
Nashville, TN (PRWEB) September 08, 2015
Beacon Transport, a Nashville truckload carrier company, is celebrating National Truck Driver Appreciation week September 13-19 by providing drivers with lunch daily. In addition, the company will distribute years of service awards and gifts to all drivers that have been employed a year or more. All drivers will receive a swag bag containing company contributed and vendor donated items. There will also be daily giveaways and door prices to lucky winners.
"This is a way we can thank all our drivers for their hard work and dedication to making Beacon Transport a successful truckload carrier and for their continued commitment to keeping our highways safe," said Chief Manager Stan Pritchett.
Trucking is a vital component to the U.S. economy. Without truck drivers, the world would look remarkably different. More than 3.5 million truck drivers support the U.S. economy, transporting over $139 trillion worth of goods each year. The truck driving industry as a whole generates $650 billion, equaling 5% of GDP.
Beacon Transport provides transportation services to the Southeast, Midwest and Southwest. Each driver gets a dedicated team of fellow truck drivers that believe in their success. In addition, they are rewarded at every turn with pay raise opportunities. Furthermore, Beacon Transport drivers give back to the community by serving the Nashville Rescue Mission, Making Strides, The Salvation Army as well as other nonprofits throughout Nashville.
The company is always looking for good drivers. Find out more about truck driving opportunities with Beacon Transport here: https://www.beacontransport.net/jobs-in-logistics/.
###
ABOUT BEACON TRANSPORT
Beacon Transport is an irregular route truckload carrier based out of Nashville, TN. The company is committed to providing quality service to their customers and associates. Beacon Transport, LLC was founded in 2000 by Stan Pritchett and David Burns. Their goal was to create a successful truckload company by utilizing their combined experience of the transportation industry. The company is dedicated to becoming a respected and valuable truckload carrier. To learn more about Beacon Transport, visit http://www.beacontransport.net.