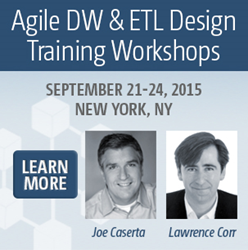 Our combined focus on managing structured and unstructured data in an agile data environment answers every company's need for consistent, reliable and conformed data
(PRWEB) September 08, 2015
The average company's investment in employee training and development continues to rise. While some organizations employ internal training methods for various functions, most agree specialized and proven methodologies with exceptional course content is necessary for quality technology training.
Joe Caserta, president of Caserta Concepts, an award-winning innovation consulting and technology implementation firm that provides strategic data solutions and tailored approaches to big data, and celebrated colleague Lawrence Corr, are in New York in September to deliver 4 days of comprehensive training in Agile Data Warehouse Design and ETL Architecture and Design. The courses are targeted to data warehouse practitioners, data architects, ETL designers and developers, and all those involved or interested in learning the fundamental design techniques and the latest data warehousing technologies.
Joe Caserta and Lawrence Corr have delivered agile data warehousing best practices and design techniques in venues across the world including the US, Europe, South Africa and Malaysia. The demand for their approach in data warehouse and ETL design has increased in recent years. "Even in the world of big data, ETL architecture and design is probably the most time-consuming of any data analytics project, and the most vital for managing information for data-driven decision-making," said Lawrence Corr, "Joe wrote the book The Data Warehouse ETL Toolkit with Ralph Kimball and attendees of Joe's workshop learn first-hand from the author how to gain expertise in designing processes that concisely extract, clean, conform, consolidate and deliver critical data to the enterprise."
The courses combine functional techniques with technical learning practices. Joe and Lawrence teach attendees the fundamental ETL and data warehousing skills necessary for ultimately asking better business questions that lead to better business decisions..
"Lawrence Corr is internationally referred to as the data warehousing king as workshop attendees feel empowered from learning the most advanced data warehousing and latest agile techniques and skills," commented author, educator and instructor of the 2-day ETL Architecture and Design portion of the course," Joe Caserta. "Our combined focus on managing structured and unstructured data in an agile data environment answers every company's need for consistent, reliable and conformed data."
The Agile Data Warehouse Design course is held Monday, Tuesday September 21 and 22 and the ETL Architecture and Design course Wednesday, Thursday September 23, and 24 in mid-town Manhattan at Broadway and 48th Street. To register, pricing details, – including special discount offers – and more, please go to Training.
About Caserta Concepts:
Caserta Concepts is an award-winning strategic consulting and technology implementation firm specializing in big data analytics solutions, data governance, data warehousing and business intelligence. Founded and led by industry thought leader and best selling author, Joe Caserta, consultants collaborate with CIOs and IT organizations across a variety of sectors including banking and financial services, healthcare, ad-tech, higher education and ecommerce to build technical data solutions and provide business analytics services to maximize data value.
Connect with Caserta Concepts on Twitter and LinkedIn
You can also follow Joe Caserta on Twitter and LinkedIn