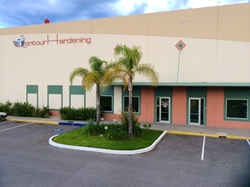 Contour Hardening can help companies in the U.S. and in Mexico supplement heat treating capabilities and defer capital investment, while assuring parts are always delivered with a certified level of quality. –John Storm
INDIANAPOLIS, Ind. (PRWEB) September 09, 2015
Contour Hardening, Inc., the developer of patented Micropulse induction heat treating technology, a leading ISO certified manufacturer of induction heat treating equipment and an ISO/TS certified tier-one induction heat treating process service provider, today announced the recent ISO/TS 16949:2009 certification of its heat treating service facility in Silao, Guanajuato, Mexico. The company's U.S. heat treating facility has been ISO/TS 16949:2009 certified since 2004, and the new designation for its Contour Hardening Operaciones S.de R.L. de C.V. provides greater levels of convenience, capabilities and cost-effectiveness for customers of all types across North America.
The rapid expansion of vehicle and related component manufacturing in Mexico has resulted in a local deficit of TS-certified suppliers in general, and induction heat treating process service providers specifically. With its new TS certification, Contour Hardening will have rare, in-country capabilities to deliver direct-to-line parts, components and assemblies that meet the industry's mandated heat treating standards.
"Because we were one of the first ISO 9001:2008 certified heat treating operations in the U.S. and were among the first HT process service providers to achieve ISO/TS 16949:2009 certification as well, we are uniquely suited to immediately serve the needs of a wide range of customers in Mexico," John Storm, president and CEO of Contour Hardening, said. "We've already solved the technical problems that will hinder others and have formed solid, longstanding relationships with all major OEMs and their tier-one and tier-two suppliers. We've also processed more than 12 million parts in our Mexico facility alone."
Contour Hardening offers the broadest and most cost-effective approach to induction heat treating capabilities to the widest array of industry stakeholders. As a leading heat treating equipment manufacturer, contract HT processor and support service provider, Contour Hardening has a solution to fit virtually every heat treating need on the manufacturing continuum.
Patented Micropulse induction heat treating equipment is built to ISO standards and has been the industry's gold standard since Contour Hardening invented the technology almost 30 years ago. Today, the company's Micropulse equipment continues to process parts for virtually every major automotive manufacturer in the world.
Contour Hardening makes financial sense for tier-one, -two and -three suppliers as well. By offering ISO/TS 16949:2009 certified contract processing, the company enables suppliers to meet stringent OEM heat treating requirements, while avoiding the initial capital expenditures associated with equipment and staffing. Once mature production volumes have been realized, suppliers can purchase the same Micropulse equipment that has been successfully processing their parts.
"We've purchased contract thermal processing services from Contour Hardening for several years and recently presented them with our President's Award for 100 percent quality and delivery," Fred Palmer, senior buyer direct materials for NTN Driveshaft, Inc., said. "We're very excited to hear the news about their new TS certification in Mexico."
Contour Hardening's contract processing services have been recognized as best in class by multiple industry leaders for exemplary performance, such as100 percent on-time delivery and zero-percent defects. The company has also been documented to have never failed a launch date.
"Contour Hardening can help companies in the U.S. and in Mexico supplement heat treating capabilities and defer capital investment, while assuring parts are always delivered with a certified level of quality," Storm said. "Both our U.S. and Mexico facilities have staff with advanced degrees in metallurgy and electrical engineering backgrounds, each have state-of-the-art metallurgical laboratories, and both now have the most comprehensive inspection credentials available."
Contour Hardening offers a complete range of induction heat treating equipment sales, service and support capabilities. The company also provides fluid filtration services, induction coil refurbishment and spare parts for Micropulse equipment. For information about Contour Hardening's products and services, please call (888) 867-2184 or visit: http://www.contourhardening.com
To view videos of the patented Micropulse Process, please visit:
http://www.contourhardening.com/videos.html
-END-
About Contour Hardening
Contour Hardening, Inc. (CHI) was established in 1986 with a goal of providing a cost-effective solution to difficult heat treatment applications. The company soon developed an advanced computer-controlled induction heating technology known and patented as the Micropulse Process. The Micropulse Process rapidly hardens gear teeth and other irregularly shaped parts requiring a high degree to case-depth hardening and pattern accuracy. Contour Hardening's patented processes have dramatically altered the traditional methods of heat treating gears and other irregularly shaped, complex parts that demand rigorous dimensional integrity. Parts heat treated by CHI's patented processes exhibit less distortion, are stronger and more durable, and their quality is superior to other heat treating methods. Contour Hardening's U.S. operation was one of the first in the nation to be jointly ISO 9001:2008 and ISO/TS 16949:2009 certified. In 2007, the company formed Contour Hardening Operaciones S.de R.L. de C.V., a satellite heat treating service facility in Silao, Guanajuato, Mexico. The heat treating services of the company's Mexico facility are also ISO/TS 16949:2009 certified. CHI remains positioned at the forefront of induction hardening technology worldwide, and its systems have been used for induction heat treating of hundreds of millions of parts. For more information, visit: http://www.contourhardening.com.
Micropulse and Micropulse Process are trademarks of Contour Hardening, Inc.