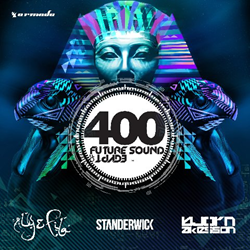 This three-disc compilation celebrates the FSOE400 world tour, with a grand finale show on September 11th at the great pyramids of Giza in Egypt.
New York, NY (PRWEB) September 05, 2015
Since its inception in 2006, The Future Sound of Egypt brand has been at the forefront of the trance music genre and has had great influence on the growth of the scene as a whole. Year after year, the FSOE radio show, record label and branded event has grown stronger and it is currently one of the more recognizable names within the genre.
Aly & Fila have stayed true to their roots from the beginning and their professional success over the past nine years is proof of the genre's popularity. The FSOE weekly radio show has featured some of the best music from varied artists over the years as Aly & Fila continue discovering and cultivating new talent.
When the Future Sound of Egypt radio show was first introduced, it was broadcast on DI.FM weekly. Today, the show is featured on more than 50 FM/terrestrial, satellite and Internet radio stations worldwide. Live DJ shows celebrate significant episodes of the FSOE radio show, and since the events went international in 2013, thousands of music-lovers have flooded the dancefloors of these events in ever growing numbers.
The live FSOE radio broadcasts -- originating from the FSOE live events -- have given trance music fans from all corners of the globe the opportunity to connect with one another in real-time.
Key tracks on the FSOE400 compilation include:

Aly & Fila, "A New Age [FSOE400 Anthem]"
Dan Stone, "Mirzam"
Bjorn Akesson, "Paper Dreams"
Skypatrol, "Shut Up!"
Sneijder & Christina Novelli, "Love Of My Control"
Aly & Fila with Ferry Tayle, "Napoleon"
iTunes: http://bit.ly/FSOE400_iT
Spotify: http://bit.ly/FSOE400_SP
This is the Future Sound of Egypt.
For more information on Aly & Fila, Future Sound of Egypt and Armada Music, contact EMILY TAN Media Relations in the U.S. at +1(917) 318-3758, EmilyEmilyTan@aol.com. Visit http://www.alyandfila.com and http://www.armadamusic.com. Follow EMILY TAN Media Relations on Twitter @EmilyEmilyTan.
# # #