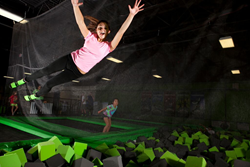 Warwick, RI (PRWEB) September 08, 2015
Launch Trampoline Park provides kids of all ages with endless fun of bouncing on trampolines, playing dodgeball in mid-air or falling into a massive foam pit. Launch Trampoline Park, Montgomery will be located at 402 Twain Curve in Montgomery, AL. The building will feature over 18,000 square feet of space and have about 11,000 square feet dedicated to trampolines.
"We are very excited to provide the community of Montgomery with a fun activity for families," said franchisee Sammy Razick. "Launch encourages family wellness through entertaining fitness, and we are happy to get the community jumping!"
"The Launch Montgomery franchisees have a great passion to bring family fun to the Montgomery area and are happy that they are on our team. We can't wait for everyone to enjoy all the fun that Launch has to offer," stated Robert Arnold, president and co-owner of Launch Franchising, LLC.
The park will feature open jump, 2 x-treme trampoline dodgeball courts, basketball dunking lanes, and a foam pit. Launch Trampoline Park, Montgomery will be available for birthday parties, fundraisers, fitness classes, toddler time, teen nights, private events and more! The park has a full-redemption arcade, Launch Restaurant and private party rooms. Additionally, Launch Trampoline Park has its own mascot – "Joey," a 7-foot tall green kangaroo mascot – who is in charge of fun at the park, assisting with birthdays and special events.
Launch Trampoline Park, Montgomery will open in early 2016. For more information on the opening, please text the word "Joey9" to 95577 to receive updates via text message.
About Launch Trampoline Park – Montgomery, AL
Launch Trampoline Park is an indoor sports and family entertainment facility serving the greater Montgomery area. With over 11,000 feet of connected trampolines forming one GIANT jumping surface and angled trampoline walls to bounce off of, Launch will get your whole family off the couch and in the air in no time! Encouraging family wellness through entertaining fitness, Launch offers a wide variety of physical activities including open-jump time, group exercise classes, trampoline dodgeball and basketball, and foam pit fun! Suitable for all ages and fitness levels, safety is the #1 priority. Launch is the perfect venue for your next date night, birthday party, family event, corporate event, church outing, or fundraiser! For more information, check out Launch Montgomery at http://www.launchmontgomery.com.
About Launch Franchising
Ty Law and Robert Arnold are co-owners of Launch Franchising, LLC, with two corporate locations in Warwick, RI and Hartford, CT, and franchise locations along the east coast. The company is expanding its franchise nationwide and utilizing the strength of positive branding, turn-key operational systems and proven marketing programs as attractive benefits to potential franchisees. For additional information, please visit http://www.launchtrampolinepark.com.