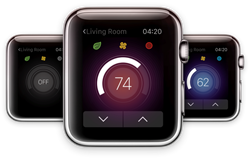 Redwood City, California (PRWEB) September 08, 2015
Y Media Labs announced today the introduction of the Kontrol app for Apple Watch and iPhone. As a Works with Nest developer, the Kontrol app can allow users to easily control and adjust the temperature on the Nest Thermostat by tapping up or down from within the app.
"Our innovative mobile design and developer teams leveraged the Works with Nest program to create the perfect marriage between form and function in an app," says Ashish Toshniwal, CEO of Y Media Labs.
"Y Media Labs' goal is to create apps that create an emotional connection between the user and the brand, and Kontrol is the end result. We believe that we've created the perfect interface and maneuverability to give Apple Watch wearers a simple, elegant user experience."
The Nest Learning Thermostat remembers what temperatures users like, creates a custom schedule for the home, and turns itself down when everyone is away. Once it's learned the home's schedule, Nest can save users about 10-12 percent on their heating bills and about 15 percent on their cooling bills. The Nest Thermostat can also be controlled remotely with a smartphone, tablet or computer.
Now with the Kontrol app on the Apple Watch, users can check, and control the temperature of their home as easily as they might check the time.
The Kontrol app is available for immediate download on the Kontrol's website.