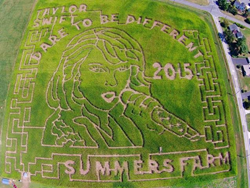 "Taylor Swift emanates a fun and positive image for today's young people," Teresa Greenwood said.
Frederick, MD (PRWEB) September 10, 2015
For 19 years now, Summers Farm has dared to be different in Maryland's agriculture-entertainment industry. It's no wonder then, after hours of thoughtful planning for this year's fall festival venue, Teresa and Jeff Greenwood have chosen yet another bold theme for their 12-acre corn maze.
Every season's corn-carve challenge hinges on inspirational creativity -- and this year's attraction depicts one of America's hottest musical stars who exudes boldness, courage, and passion. Summers Farm's 2015 maze will unveil its own carving of Taylor Swift, the current queen of pop whose latest album, 1989, has sold over 5 million copies.
"Taylor Swift emanates a fun and positive image for today's young people," Teresa Greenwood said. Swift's generosity toward charitable causes is one thing, but perhaps more importantly, she dares to be different, embracing the power to be all that she can be…and encouraging her fans to do so as well.
When the farm opens this fall, maze-goers will have to rely on "Taylor-made" clues interspersed throughout to find their way out of the cornstalk labyrinth. For Swifty fans, that might not be so easy. The Greenwoods have sown over 300,000 corn seeds with big plans for cornfield fun for fans.
"Summers Farm is a place to make memories. I feel very fortunate in sharing this beautiful land with so many people who visit our farm with family and friends," said Greenwood. "Our farm's successes have proven that being different, being bold, being impassioned is what brings people back year after year."
The maze has been one of the best crowd-pleasers for the mid-Maryland agri-enterprise. This year's harvest festival, which opens September 26 and runs daily through November 1, offers a genuine, old-fashioned hayride to the pick-your-own pumpkin patch, more than 30 activities including slides, farmer golf, gigantic-sized jumping pillows, and farm animals. On weekends, the proprietors step up the offerings with live music on the Silo Stage, campfire rentals, pig races, appetite-pleasing concessions from the Barnyard Grill, and mouth-watering confections including homemade cookies and apple cider donuts.
When night falls, the farm takes on a whole different look by moonlight. Flashlights are a must for the "Nights on the Farm" venue, even though strategic lights help folks find their way.
"We offer the best of amusements all wrapped up in a safe and fun outdoor setting," said Teresa Greenwood.
It's the kind of amusement that perhaps Taylor Swift would approve of – and possibly write about in a future hit song tailored to fans who dare to be different.
###