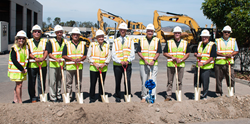 "Caterpillar's output capabilities keeps growing and this modernization provides Hawthorne with industry-leading premier assets." -- Kirk Fowkes, Vice President of Hawthorne's Power Division
San Diego, CA (PRWEB) September 08, 2015
Hawthorne Cat, the exclusive Cat® equipment and engine dealer in San Diego and the Pacific Region, is expanding its corporate campus in Rancho Bernardo with the addition of a state-of-the-art engine, generator and on-highway truck testing facility. Hawthorne Cat senior executives along with Barnhart-Reese Executives, the architect and general contractor, participated in the official groundbreaking ceremony today.
As part of a 55,000 square-foot building upgrade, the new Dyno Shop engine testing capability will help Hawthorne Cat meet the growing market demands over the next 20 years. The 5,000 square-foot Engine and Generator Test Center will include engine flywheel dynamometer testing up to 4,250 horsepower, indoor generator resistive/reactive load bank testing up to 3,300 KW, outdoor generator testing up to 8,000 horsepower (6MW), and truck chassis dynamometer testing of up to 1,000 horsepower. A twenty-ton crane system will also be added to the existing weld and fabrication building, allowing generators to be moved for testing and placed into ISO compliant containers.
Additionally, Hawthorne Cat will centralize its Power Systems operations, including sales, power rental, field services, truck services and administration at the expanded campus. The transition will begin in October 2015 with full occupancy expected by early 2016.
According to Kirk Fowkes, Vice President of Hawthorne's Power Division, "Caterpillar's output capabilities keeps growing and this modernization provides Hawthorne with industry-leading premier assets." Fowkes continues, "This significant facility expansion will provide unmatched customer resources, greater than any others in our service territory."
About Hawthorne Cat
Hawthorne Cat is the authorized dealer for Cat construction and power equipment in San Diego, Hawaii, Guam, Saipan and American Samoa. Hawthorne sells, rents, provides parts and service, training and emission solutions to various industries including general building construction, landscaping, marine, trucking, paving, power generation and other engine-related markets. Hawthorne has outstanding skills in building, rebuilding and packaging engines and power systems of all sizes, ranging from truck engines and turn-key generator plants to cogeneration and standby power. For more information, visit the Hawthorne Cat website