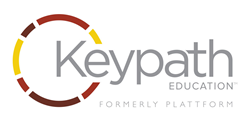 We are proud of our students' outcomes, and we know Keypath Education will help us continue to highlight our outstanding graduates. - Globe University CEO Jeff Myhre
KANSAS CITY, Kan. (PRWEB) September 08, 2015
Two major players in higher education are teaming up to better serve nontraditional students. Keypath Education, a full-service partner for higher education institutions worldwide, and Globe University, a private university with roots dating back to 1885, are joining forces to reach students interested in career training in Minnesota, South Dakota and Wisconsin.
Keypath Education will take over all marketing services – from pay per inquiry and traditional and digital media to search engine optimization and social media – for Globe University, the Minnesota School of Business, the Minnesota School of Cosmetology, and the Institute of Production and Recording.
"We hired Keypath Education because of its experts' deep marketing experience across all channels, helping higher education institutions grow and better serve their students," said Globe University CEO Jeff Myhre. "Having all services within one agency will provide a better return on investment. We are proud of our students' outcomes, and we know Keypath Education will help us continue to highlight our outstanding graduates. We are looking forward to the integrated opportunities, efficiency and innovative solutions Keypath Education has to offer."
Globe University is part of a family-owned network of colleges, helping communities and employers fill skills gaps with students trained by applied learning methods. Programs include undergraduate, diploma and graduate degrees in career fields including business and accounting, health sciences, legal sciences, technology, creative media, and applied arts.
"We are really excited about our new full-service partnership with Globe," said Keypath Education Group President Mike McHugh. "There is a major opportunity to apply our expertise to Globe's strong network of schools and grow their programs, help them reach the right students and turn those students into advocates."
For more information, please contact Hannah Lemon, senior content marketing specialist, at hannah.lemon(at)keypathedu(dot)com or 913.254.6225.
About Keypath Education
Keypath Education partners with higher education institutions worldwide to launch online programs, grow enrollment, improve learning and connect education to careers through a proprietary technology suite. The company has helped more than 4,000 higher education institutions better serve students and graduates, resulting in a strong reputation for its education mission and quality in the United States, Canada, the U.K. and Australia. Since its beginning more than 26 years ago, Keypath Education has been dedicated to changing lives through education. Visit keypathedu.com to learn more.