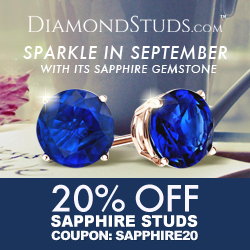 Los Angeles, California (PRWEB) September 04, 2015
DiamondStuds.com hope to please their customers this Labor Day by instantly upgrading their gold purchases from 14k to 18k gold. By using the code Sapphire20, customers will receive 20% off all sapphire studs for all those September birthdays. By entering the promotional code Upgrade18K at checkout, customers will receive a free upgrade from 14k gold to 18k gold with their purchase or use Sapphire20 for 20% off a pair of sapphire studs. DiamondStuds.com is excited to provide a great value for their customers this Labor Day. DiamondStuds.com proudly makes all of their jewelry in the USA and is offering these amazing promotions in honor of Labor Day. These last few weeks of Summer are meant for spending time outdoors and enjoying time with friends and family. What better way to dress up any summertime outfit then with sparkling diamonds or stunning sapphire studs. With a vast selection of earrings, rings, and pendants, DiamondStuds.com is sure to help their customers find a unique piece made just in time for all those last few summer parties, weddings, and occasions.
About DiamondStuds.com:
Armed with a mission of lasting excellence and superior knowledge about diamonds, DiamondStuds.com focuses solely on diamond stud earrings. The attention to details allows the company to offer their consumers the largest selection of fine diamond earrings online. DiamondStuds.com also provides a huge array of customization options, enabling each individual to create an exquisite pair of studs, halo earrings, gemstone earrings or fashion earrings unique to his or her personal preferences. To learn more about DiamondStuds.com, please browse the website at http://www.diamondstuds.com. Customers can call DiamondStuds.com at 1-855-WOW-STUDS (1-855-969-7883), to speak live with a diamond expert or send an email to info(at)diamondstuds(dot)com.