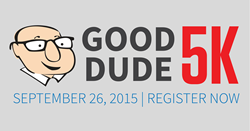 The Good Dude 5K is an event Dude Solutions employees and the community at large can get involved and support those in need.
CARY, NC (PRWEB) September 08, 2015
Dude Solutions Inc., a software-as-a-service (SaaS) provider of operations management solutions, today invites Triangle area runners to the first annual Good Dude 5K on Saturday, September 26, 2015.
Benefits from the race will go to Brown Bag Ministry, a local 501(c)(3) charitable organization that serves the homeless and hungry in the Triangle area of North Carolina. Volunteers – which include individuals, families, and groups – gather at five sites on Saturday mornings to prepare lunches that are distributed to those in need throughout Durham and Wake Counties.
Who:
Good Dude, Dude Solutions' charitable organization
Brown Bag Ministry
When:
Saturday, September 26, 2015
Race begins at 8:30 a.m. ET
Where:
WakeMed Soccer Park
201 Soccer Park Drive
Cary, NC 27511
What:
The Good Dude 5k is the first annual race hosted by Dude Solutions. Race fees are $35 before September 12, and $40 thereafter, up to and including race day. The entry fees for children 12 and under are $10 less. Race packets can be picked up on race day beginning at 7 am.
5K awards will go to the top male overall and to the top female overall and to the first finisher in each of the following age groups (male and female): 0-9, 10-19, 20-29, 30-39, 40-49, 50-59, 60-69 and 70-over. No double awards.
All registrants will receive a race T-shirt and refreshments will be provided following the race.
Media:
For more information on the event or the charity or for an interview with the Good Dude Race Director Kate Donnelly, please contact Jennifer Qotb at 513-281-2772 or jennifermq(at)yapr.com.
"Volunteering has become a way of life for me with Brown Bag Ministry, and I am proud to work for a company that has joined in the cause," said Kate Donnelly, Good Dude Race Director and Marketing Specialist for Dude Solutions. "The Good Dude 5K is another terrific event in which our employees can get involved and support those in need."
Dude Solutions' philanthropic program, the Good Dude, allows employees to donate time, technology and funds to support the Triangle community. Each year, Dude Solutions donates:

1% of employee working time to the community;
1% of sales to support technology in education;
1% of product services to under-served and rural schools and
Various technology to non-profit organizations.
ABOUT DUDE SOLUTIONS
Dude Solutions, parent company of SchoolDude and FacilityDude, is a leading software-as-a-service (SaaS) provider of operations management solutions to education, healthcare, government, commercial and membership organizations. Over the last 15 years more than 7,000 organizations have selected Dude Solutions' award-winning software for facilities, energy, safety, IT and a growing suite of related enterprise applications to increase efficiencies, improve service and save money. For more information, please visit http://www.dudesolutions.com.
###