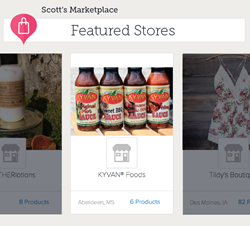 Supporting local businesses like KYVAN is what makes Scott's Marketplace so unique.
Scottsdale, Arizona (PRWEB) September 08, 2015
Scott's Marketplace, an e-commerce marketplace for local business owners across the United States who want to affordably sell their products online, is now carrying KYVAN Foods, NFL pro Reggie Kelly's line of salsas, sauces, and seasonings.
After a long career in the NFL that spanned 13 years with the Atlanta Falcons and Cincinnati Bengals, Reggie Kelly took on entrepreneurship. For years, Kelly and his wife Sheila put on free football camps in their hometown for kids who showed academic excellence. At these camps, Kelly cooked soul-food inspired dishes from family recipes. They were so well-received that Kelly decided to take these products to market, and his company, KYVAN, was formed. Named after his two children, Kylan and Kavan, KYVAN consists of everything from honey apple butter and jambalaya sauce to wing sauce and savory seasonings.
In summer of 2015, KYVAN Foods was named as a finalist in the Martha Stewart American Made Awards contest. The contest highlights the best American-made products, and local business owners, of the year. In addition, KYVAN has received accolades from past teammates, current NFL players, hosts of Thursday Night Tailgate, Sports Talk Radio Network executives, and fans across the United States.
By selling his products on Scott's Marketplace, Kelly is able to reach a mass amount of shoppers who actively choose to shop local stores over chains. Since Scott's Marketplace is the only e-commerce marketplace to disallow chains and big-box stores, shoppers are drawn to the distinct products and gifts available on the site.
To open a store on Scott's Marketplace, sellers must be local business owners within the United States, and categories include clothes, beauty, accessories, home décor, jewelry, pets, specialty foods, and more.
With no membership or per-item listing fees, there is no risk for sellers who open an online store on Scott's Marketplace. When an item sells, there is a 4.99% transaction fee. For consumers who want to shop local stores online, Scott's Marketplace has given them a more convenient way to support these independent business owners.
Ashleigh Barlow, Scott's Marketplace's Vice President of Marketing says, "Supporting local businesses like KYVAN is what makes Scott's Marketplace so unique. We are proud to have KYVAN join our rapidly growing list of local stores and look forward to a successful relationship."
About Scott's Marketplace
Scott's Marketplace, an Arizona-based startup, was launched by small business owner Scott Curry in April of 2014. Scott's Marketplace connects shoppers with local store owners across the United States in an interactive e-commerce marketplace. To learn more, visit http://www.scottsmarketplace.com or call Ashleigh Barlow, Vice President of Marketing at Scott's Marketplace, at (480) 420-2700.