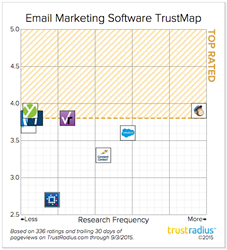 Our Email Marketing TrustMaps™, Buyer's Guide, and store of in-depth reviews help prospective buyers identify the best-fit solutions based on their specific needs.
Austin, Texas (PRWEB) September 10, 2015
TrustRadius, the leading research platform for business software based on authentic, in-depth user reviews, today announced the release of its TrustMaps™ for Email Marketing Software, which ranks products based on user satisfaction ratings and research frequency by prospective buyers, and can be filtered for small businesses or mid-size companies.
The TrustMaps™ help software buyers quickly locate the solutions most highly rated and commonly considered by companies of a similar size, and therefore most closely aligned to their needs.
Each TrustMap™ depicts Email Marketing products on two dimensions – "likelihood to recommend" ratings by end-users and research frequency by prospective buyers on TrustRadius, as measured by unique page views.
All ratings come from authenticated users of Email Marketing software products who reviewed or rated the product on TrustRadius.com.
Along with TrustMaps™, TrustRadius Research also published a Buyer's Guide to Email Marketing software, which compares the pros and cons of 5 leading email marketing vendors.
"Email marketing software is a fiercely competitive space. Vendors are under pressure to innovate. Offerings are becoming more sophisticated with the introduction of automation and customization features. At the same time, there is a growing demand for a consumer-grade user experience. First-hand insights from users are essential to understanding how well these feature sets are functioning in the real world," said Vinay Bhagat, CEO of TrustRadius. "Our Email Marketing TrustMaps™, Buyer's Guide, and store of in-depth reviews help prospective buyers identify the best-fit solutions based on their specific needs."
Best Email Marketing Software for Small Businesses (less than 50 employees)
Based on average user ratings, the Top Rated products for Small Businesses are:

MailChimp
Vertical Response
Aweber
Sendinblue
Best Email Marketing Software for Mid-Size Companies (between 51 and 1,000 employees)
Based on average user ratings, the Top Rated products for Mid-Size companies are:
MailChimp
Vertical Response
iContact
The Buyer's Guide to Email Marketing is free and available here: https://www.trustradius.com/dlc/tr/buyers-guide-to-email-marketing-software
About TrustRadius
TrustRadius is the leading research platform for business software based on authentic, in-depth user reviews. We help software users make better product selection, implementation and usage decisions. Every reviewer is authenticated and every review vetted before publication. Unlike simple rating sites, TrustRadius reviews are structured and substantive, averaging more than 400 words each. Reviewers can also update their reviews to keep them current. Founded by successful entrepreneurs and backed by the Mayfield Fund, TrustRadius is bringing transparency and efficiency to the $3.7 trillion business technology market
To learn more, visit http://www.trustradius.com