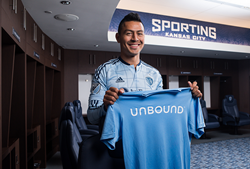 I want to help kids in many countries around the world. Unbound is a good place to do that.
Kansas City, Kan. (PRWEB) September 09, 2015
Unbound, a humanitarian organization working in 20 countries around the world is pleased to announce its partnership with Roger Espinoza of the Sporting Kansas City soccer club.
Espinoza will visit Santa Barbara, Honduras, Dec. 10-14, 2015, to experience the impact Unbound makes for children, youth and elders living in poverty. He'll meet families Unbound serves and host a soccer clinic for kids in the Unbound sponsorship program.
Espinoza was born in Puerto Cortes, Honduras, and is one of six children. He immigrated to the United States when he was 12 years old and credits soccer to helping him integrate into a new country and learn English. Espinoza still has family in Honduras, and he has a goal of making a difference in his home country and beyond its borders.
"I come from Honduras, and I can connect with kids from Honduras," Espinoza said. "And I want to help kids in many countries around the world. Unbound is a good place to do that."
Ana Martinez, Honduran project director for Unbound said Espinoza's presence will help inspire young people to achieve their dreams.
"Roger Espinoza comes from a family very similar to the families we serve," Martinez said. "He has the charisma and spirit of giving and is a young man who made many sacrifices to reach his dreams. We are thrilled and happy to have him as a part of our Unbound family."
Espinoza, a midfielder, began his Major League Soccer career in Kansas City, where he was an MLS All-Star and helped the club win the 2012 Lamar Hunt U.S. Open Cup. He moved abroad for two years to play in England and returned to Kansas City in January 2015. He is one of only three current MLS players to have appeared in the Olympic Games and two or more FIFA World Cups.
Espinoza also played on the Honduras National Team and remains a popular player in both the United States and Honduras. He likes snowboarding, ice fishing and his English bulldog, Chulo.
"For children in Honduras and many countries around the world, soccer is a sport of passion and excitement," said Martinez. "Having a figure like Roger Espinoza advocating for and motivating children living in poverty is a great joy. He is a fabulous example that dreams can be achieved."
To schedule an interview with Roger Espinoza please contact Elizabeth Alex.
About Unbound
Unbound is the largest nonprofit organization in Kansas with more than $120 million in annual revenue. Unbound works side by side with people of diverse faiths in 20 countries, bringing people together to challenge poverty in new and innovative ways.
Unbound distributes direct aid as quickly and efficiently as possible to people who need it. 92.5 percent of Unbound's expenses go toward program support.