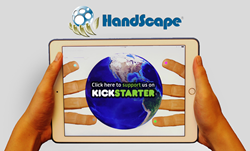 HandyCase makes your iPhone and iPad transparent.
Fremont - CA (PRWEB) September 08, 2015
HandyCase is wireless, light-weight, and durable. By integrating the next generation input technology in the HandyCase, user can easily attach the case to the back of a mobile device. This ergonomic and transparent technology allows users to tap and swipe their mobile device from the back panel by seeing their hands through the screen. The case is Bluetooth Smart (BLE) and has a long battery life.
Founded in 2013, HandScape Inc. develops multi-patented transparent technology which can be integrated into mobile devices, car consoles, wearable computers, toys, gaming consoles, etc. HandScape's unique idea was developed by leading technology engineers in Silicon Valley, California and is protected by numerous patents. HandyCase's sleek design is crafted by top industrial design firms and artists in the United States and Europe. The smart case allows for one or two-handed interaction with games, maps and other next-generation applications.
Tong Luo, Ph.D., Founder and CTO at HandScape, shares, "I take pride in solving the mobile environment's complicated issue. Now, our technology is practical, safe, able to work in any lighting conditions, and energy efficient." With such liable technology, app developers can utilize this great tool for their portfolio and can provide an intuitive means to maneuver on-screen objects without users obscuring the screen with their hands. The application is endless.
HandScape was recently recognized by Forbes in an article titled "Chinese Startups That Splashed at CES" and won the 2nd price at Startup 21 competition 2015 in Silicon Valley. In 2014, HandScape named Top 10 Most Favorite Things from CES 2014, and was also nominated for the Top 30 Innovation Award during the 2014 Silicon Valley Innovation and Entrepreneurship Forum (SVIEF).
HandScape has now launched this invention on Kickstarter to raise funds for further product design enhancement, hardware and software development, and marketing and sales support.
To learn more and participate in this promising KickStarter campaign, contact HandScape today. Tweet us @HandScapeInc or follow us on Facebook.
Interested in joining our revolution? Email us at contact(at)handscape(dot)com. We look forward to hearing from you.
Tong Luo, Ph.D, Founder & CTO
Tong completed his bachelor's and master's degree in Electrical Engineering at Xi'an Jiaotong University and University of Science & Technology in China, and was awarded his doctorate in Computer Science at Duke University in 2000. With 15+ years of experience with Bell Labs, GTE Labs, CIENA and eBay, he worked on a variety of technologies and consumer products and filing multiple patents. Tong was co-founder of the profitable Abacus Financial Services from 2003 to 2013, with thousands of residential loans funded worth billions of dollars. He founded and incorporated HandScape in 2013 and has applied for multiple patents in the area of handheld computer interaction.
Min Hui, Ph.D, CEO
Dr. Min Hui, CEO of HandScape Inc., received her Ph.D. from Duke University, and a master's degree from Stanford University and another from Tsinghua University. She received scholarships from Duke, Stanford and Tsinghua Universities. Min has worked in the past with Morgan Stanley as a financial advisor and is currently the founder and CEO of Abacus Financial. Dr. Min Hui is known for her passion, vision, leadership, photographic memory, communication skills, resourcefulness, and gentle heart. In this rapidly changing market, Dr. Min Hui's determination and leadership will bring HandScape to successful heights.
http://www.handscape.com | (510) 676-5258 | contact(at)handscape(dot)com