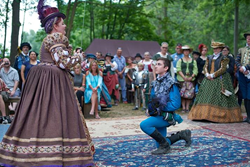 (PRWEB) September 05, 2015
Welcome to the World of the Renaissance! Where Fantasy Rules! RENFAIR.COM
Rated the number one Renaissance Faire in the country and also in the top ten "Family Friendly Events" in the nation, the final three days of the Bristol Renaissance Faire are upon us. Don't miss the opportunity to celebrate Elizabethan England with the 1000 performers in the village. Join us to relish in the Faire's finest offerings of merchants selling their hand-made and very unique wares: Fine Art, Leather Works, Costuming and Elaborate Jewelry. Take a moment to taste fine food of traditional England: Shepard's Pie, Fish and Chips and of course, Turkey Legs! ...along with specialty items such Cheese Fritters, Coconut Shrimp and succulent Steak. There are vegetarian, vegan and Gluten-free delights as well.
Don't miss our amazing shows by world class actors and performers including acrobats, belly dancers, comedians and, of course, The Jousters! Sir Walter Raleigh, The Norreys Family and Queen Elizabeth, herself, are on hand to offer a welcoming embrace to the city of Bristol. Fulfill the desire one last time, to belt out favorites with The New Minstrel Revue, belly laugh with MooNie! and be amazed by the crazy antics of the Clan Tynker Family Circus.
For this season's final weekend, the Bristol Renaissance Faire will celebrate Queen Elizabeth's Natal Day with celebratory cheers and our very own Street Corner Shakespeare -where the audience has the opportunity to perform with our cast.
Queen's College invites Faire visitors to learn historic arts and crafts in our village. Master artists, artisans, and traders teach their crafts in workshops to adults, teens, family groups, and children. Workshop students receive supplies and tools needed to make their own keepsakes, and some will have kits to continue working on at home. Fees -if any- are nominal ($3 to $25). Most workshops will run for approximately 45 minutes. If time is important to you, it is possible to pre-register at the College to guarantee a seat at a later workshop. Immerse yourself in the craft of the era.
Check-in at the Bristol Renaissance Faire on Facebook or Yelp to enter into a drawing for a pair complimentary tickets for the 2016 season. Tickets can be purchased at the box office, on the website or at local Walgreens stores. RENFAIR.COM