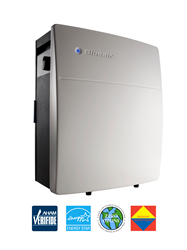 Blueair smokestop units are an excellent way to combat not only ozone, smoke, and VOCs, but also particulate matter. These units offer the highest quality technology to promote optimal health for you and your family.
Peoria, IL (PRWEB) September 08, 2015
US Air Purifiers LLC has announced this week that it will be stocking several new models manufactured by Blueair in the near future. These models, part of Blueair's new Pro line of products, have only recently been introduced by the manufacturer.
The Blueair Pro series is made up of 3 models, each meant to filter for areas of different size. From the M model, meant for rooms of up to 390 square feet, to the XL, designed to purify air in spaces up to 1,180 square feet, the Pro series has something to meet nearly any need. The new series is meant to be quieter and more efficient, as well as more effective at capturing airborne particles. The HEPA silent technology of the Pro series captures 99.97% of all particulates greater than 0.1 microns in size, making it extremely effective for providing safe, healthy air.
In addition to the new Pro series, US Air Purifiers is also offering the new Blueair 203 Slim model, a newer, slimmer design meant to easily fit into smaller spaces. Certified ozone free, the 203 is an excellent option for apartments, bedrooms, and offices. Recent studies have shown that warmer weather can cause ambient ozone levels to rise due to a decrease in plant absorption of the highly reactive gas. According to both the EPA and independent studies, ozone exposure can have significant negative effects on the upper respiratory system, as well as cause damage at a cellular level. In some cases, ozone exposure can aggravate existing medical problems, such as asthma. A small air purifier such as the new 203 can help to decrease overall exposure.
Customers interested in a sneak peak of the Blueair Pro series can contact Barb Lulay, owner of US Air Purifiers, by email at contactus(at)usairpurifiers(dot)com, or by phone at 888-231-1463 (ext. 1) for further information about features, specifications, pricing, and availability of the new models.
About the Business:
Barb and Dick Lulay's customers are passionate about naturally reducing their risk of disease. Their customer service and product expertise make shopping with http://www.USAirPurifiers.com and http://www.OttersDream.com an ideal experience. With a full line of natural products such as air purifiers, natural supplements, green cleaners, weight management and paraben free skin care, families find they can conveniently do their household shopping online with home delivery. As successful business owners, the Lulays offer a mentoring program for other aspiring entrepreneurs. They present exceptional marketing tools and a training program that shows how to generate immediate income as well as long term passive income.