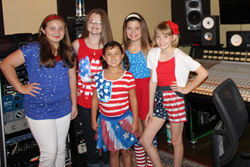 Inspire Freedom
Marco Island, FL (PRWEB) September 05, 2015
Weighing in at a collective 300 pounds and 20 feet tall is Alexis (8), Bianca (10), Izzy (10), Sarah (12) and Victoria (12) who now make up America's newest pop group, the USA Freedom Kids. This adorable bundle of joy is arriving with a splash, and their brand new, already-acclaimed single, "National Anthem Part 2."
The song borrows elements of America's most patriotic song of all, the Star Spangled Banner, and combines it with an electrifying, super-high-energy dance beat that is on track to bridge the generational divide. From World War II vets who adore the patriotic girls, to young kids (and young at heart) who want to dance the night away to electronic dance music (EDM), the National Anthem Part 2 delivers in an all-American way … and does NOT disappoint!
The USA Freedom Kids are also working on a full-length album consisting of "old favorites," dance remixes of old favorites and even original songs. The album is expected to be out in early 2016. The Kids are also working on music videos, social media and are even performing at sporting events and some political rallies.
The group, based in southwest Florida, is an epic undertaking for a few reasons; not the least of which is that these girls are full-time students.
"The five girls are so dedicated, so intensely patriotic, and so over-the-top talented, which is why the USA Freedom Kids are already on the map," says Jeff Popick, the founder and manager of the group. "As an entrepreneur, I enjoy providing them an opportunity, and I delight in watching them seize it."
And seize the opportunity, they have! The USA Freedom Kids train together a minimum of three times per week, plus additional time working on material at home, recording in studios and even studying the fine points of showmanship. The group is well-fortified behind the scenes as well. Tish Poorman, a decades-long vocal and performance coach works with the girls on vocals.
"Their sound is more than just singing, for the listener it's an outright ethereal experience," says Tish.
Tre Preston, sometimes referred to as "the king of choreography," who has worked with Kidz Bop and countless other A-list performers, is the girls' dance instructor. The Kids' youngest member, Alexis, has already been training with Tre for over a year. Tre will be choreographing the performances and videos.
Bryan Tyson, the primary "composer" of the music, rounds out the all-star team. Bryan is a multi-platinum selling producer and has been working tirelessly with the USA Freedom Kids for many months.
"For the girls and for the entire country, I'm so excited to be working with such an amazing team," radiates Popick.
The USA Freedom Kids will melt your heart, lift your spirit and inspire freedom throughout all the land! So, if you love America, freedom and great music, check out http://www.USAfreedomKids.com and follow the USA Freedom Kids on Facebook and Twitter.