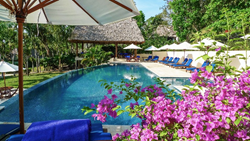 We love to explore new places and Belize has a lot to offer
San Ignacio, Belize (PRWEB) September 06, 2015
The Lodge at Chaa Creek has announced the winner of this year's Belize Reef and Rainforest Adventure Sweepstakes.
Lea Itzab, Chaa Creek's marketing officer, said that Sarah Hirsch, from the US state of Michigan, won the sweepstakes prize; a complete eight-day all-inclusive Belize vacation package for two, valued at over US$7,000 dollars.
When advised that she won the August 2015 sweepstakes, Ms Hirsch replied, "I can't believe I won! What an incredible opportunity this will be to explore the beauty of Belize, learning about Mayan culture and becoming one with nature in what sounds to be an amazing eco-resort. We are ready for adventure!"
Ms Itzab said that the sweepstakes, the most ambitious competition Chaa Creek has ever offered, attracted over 30,000 entries from across the globe.
"It was a great success, and showed us that we have quite a substantial worldwide following of people who are engaged with Chaa Creek and familiar with Belize in general," she said.
Ms Itzab explained that the sweepstakes questionnaire was designed to gauge public perception about the activities, services and amenities offered by Chaa Creek. Entrants were asked to answer twenty questions about Belize and Chaa Creek, either from personal experience or by combing through the eco-resort's website for answers.
"It was so gratifying to receive over 30,000 entries, and to see that there is a high level of awareness about Belize and Chaa Creek. It's amazing how much people now know about the country that not very long ago was advertised as "Mother Nature's Best Kept Secret," she said.
Ms Itzab said that the winning vacation package, like all Chaa Creek all-inclusive Belize vacation packages, includes everything needed for a complete Belizean holiday from the moment guests are picked up at Belize's international airport until they depart.
With all accommodation, meals, transfers and activities, as well as access to all amenities within Chaa Creek's 365-acre private nature reserve, the Belize vacation package will take winners from the Maya heartland of western Belize to the Caribbean coast and the tiny island of South Water Caye near Belize's Great Barrier Reef, Ms Itzab said.
"Our guests will start with horseback and mountain bike excursions through jungle trails, canoeing down the Macal River, guided nature walks and visits to Chaa Creek's Natural History Centre, butterfly farm, Maya organic farm and Medicinal Plant Trail, while enjoying amenities such as an infinity pool, fine dining restaurant and lounge. There will be tours to ancient Maya temples, professional treatments at the Hilltop Spa and, of course, plenty of time for lounging and just enjoying the feeling of being surrounded by nature.
"The winners will then travel to Belize's beautiful Caribbean coast for a trip out to South Water Caye for some of the best swimming and snorkelling on the planet. I can't think of a better way for two people to discover and enjoy Belize," she said.
Sweepstakes winner Ms Hirsch said that she was indeed looking forward to discovering Belize and Chaa Creek, "I have never been to Chaa Creek but was prompted to enter based on how lush and exotic it looks. We love to explore new places and Belize has a lot to offer. We also love staying in luxurious hotels, and the Lodge at Chaa Creek looks like it won't disappoint," she said.
Ms Itzab said that she was looking forward to introducing Ms Hirsch to the beauty of Belize, and, given the success of this year's Belize Adventure Sweepstakes, Chaa Creek followers can look forward to more competitions in the future.
"It's our way of giving something back to our friends and guests as well as the many people who follow and support our Belize Travel Blog and website and other initiatives. Chaa Creek's success has been built on customer feedback and listening to our guests' suggestions. We've always enjoyed a real feeling of community, and this is one way of saying thanks," Ms Itzab said.
The Lodge at Chaa Creek is a multi award winning eco resort set within a 365-acre private nature reserve along the banks of the Macal River in Belize.
ENDS