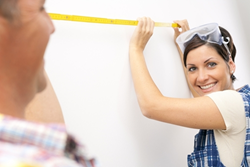 Home improvement doesn't always need to be expensive or done by a professional
Chicago, IL (PRWEB) September 05, 2015
Fortunately for first-time home buyers, affordable home improvements can be accomplished quite easily. With a little creativity and hard work, individuals can enhance their home's appearance without breaking the bank.
The Federal Savings Bank offers the following DIY tips for improving a home.
Install new light fixtures
By adding a unique light fixture and illuminating the space, homeowners can improve the appearance of their house without spending too much money. Antique shops, estate sales and even websites such as Craigslist may have a number of interesting and fun lighting options to choose from.
Individuals should look around for potential fixtures, or find old ones they can paint or stain to look new again.
Homeowners must make sure they use the proper light bulbs in their new fixtures. Follow the recommended wattage or reach out to a professional electrician to ask about safety concerns regarding the new light fixture.
Add some wallpaper
One way to affordably customize the rooms in a home is by wallpapering a a space. A fun pattern can add an interesting feature to a room. Fortunately, it isn't necessary to wallpaper every wall in the home. Try creating an accent wall in a room or two.
Install crown molding
One way to make a bold impact easily is by adding crown molding to a room. Individuals should select crown molding that is approximately 30 to 40 percent of the width of the baseboard, and if homeowners want to paint the molding they should do it prior to installation.
Pump up the outdoor charm
Homeowners shouldn't forget about the exterior of their home. Replacing or painting the front door is one way to easily and affordably improve curb appeal. A new mailbox is another way to enhance the entrance that can easily be completed without too much time or effort.
In addition, a brick border around flower beds, sidewalks or landscaping is a simple way to incorporate charm and structure outside.
Homeowners who crave a bit more privacy can plant evergreens or other types of large trees along borders or in front of their homes if they want to block sound.
Home improvement doesn't always need to be expensive or done by a professional. Homeowners should consider spending some time improving their house themselves to save a bit of money.
Contact The Federal Savings Bank, a veteran owned bank, to learn more about mortgages.