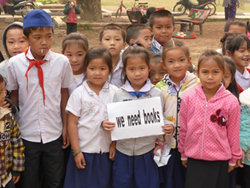 "I would personally like to thank the One Million Words Asia Literacy Organization and everyone that found it in their hearts to help out these children,"
(PRWEB) September 08, 2015
The One Million Words Organization (http://www.onemillionwords.org), a charity registered in New Hampshire, the Philippines, and Hong Kong, that promotes literacy for underprivileged children throughout South-East Asia, has been working closely with Lamma Grill restaurant on Lamma Island, Hong Kong, to sponsor charity events to help children at 3 schools in rural and remote Luang Namtha, Laos.
A successful series of fun events and activities held every Wednesday has been a big hit with the local residents and has raised over $2065USD in donations. There will continue to be ongoing events with a rotating theme, such as comedy night, a quiz night, and a wide international range of food cook-offs. For a full listing of events, please visit the One Million Words official websites.
Thanks to the efforts of these events, a donation of $2000USD for local textbooks and class readers was made on September 8, 2015 which will go to help Oudom Sinh, Lakham Mai, and Si Da Elementary Schools in Luang Namtha township, all of which ran out of funding earlier this year.
"The students and teachers in Luang Namtha would personally like to thank the One Million Words Asia Literacy Organization and everyone that found it in their hearts to help out these children," said Mr. Kaek Chantachak, director of education in Luang Namtha. "With this money, not only can the schools provide textbooks, they can begin making additions to their libraries."
One Million Words is currently seeking partnerships and sponsors to promote literacy and help children in Asia. The organization has received multiple requests for assistance that cannot be met at present due to lack of funds. Donations, even as small as $5 from individuals are always welcome, and go a long way towards providing much needed books to these children. Interested parties can visit the donation page for more information on how to help
About the Schools:
Oudom Sinh Elementary School is the largest school in the region with almost 700 students and 32 teachers. Currently, there are only enough books for 1 out of every 3 students, with most of the current books being very dated and in rather poor condition.
Lakham Mai School is an Ahka tribal minority school located deep in the jungle in the outskirts of Luang Namtha province. Students in Lakham Mai School are very motivated and value the opportunity of learning as they see it as a pathway to a brighter future for themselves and their families.
Si Da School is in an extremely remote area where the entire village just received electricity in August, 2015. Since then, attendance rates have increased markedly and this number will continue to grow as the students now have access to the resources that can improve their literacy and academic success.
About the One Million Words: The One Million Words Asia Literacy Organization has been established with the mission to finance, source, and supply new printed books, in local languages or in a second language as per demand at the time, with a word count in excess of 1,000,000 words, with the goal to supply curriculum based textbooks and fictional works to young learners and schools in remote provinces in PDR Laos, Vietnam, Myanmar, PR China, and the Philippines, with a special focus on underprivileged children aged 4 to 14. For more information, please visit the official website at http://www.onemillionwords.org