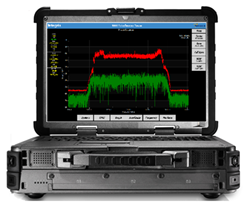 Now, users can control the RRH to run tests previously not possible without the BBU.
Newbury Park, CA (PRWEB) September 09, 2015
Absolute Analysis, leader in CPRI based testing announced the release of version 3.0 of the Integris 2000. The new version supports BBU emulation and which enables the ability to perform a variety of RRH validation tests, from fiber/cable tests, to polling the remote radio for information, to the entire RF path for implied PIM or diversity imbalance testing.
The original Integris 2000 was designed to test for proper installation of a remote radio before integration with the basestation (BBU) and had capabilities to check the fiber cabling for proper connection by bringing up the CPRI link to an idle state. Without incorporating the BBU, technicians could miss damaged fiber cables, incorrect connections, improper power wiring or faulty coax cables and antennas.
Absolute Analysis recognized that further improvements on the Integris 2000 would save costs and extensive schedule delays. By enhancing the Integris 2000 technology to include BBU emulation, it can now poll the RRH for its manufacturing and SFP information, command the RRH to transmit in both high and low power conditions while simultaneously collecting uplink information and can accomplish all this without having to climb the tower for connection to the actual BBU.
"Integris 2000 with BBU emulation is a legitimate game changer for technicians dealing with remote radio installations. With the CPRI link being the only access to the RRH, it made sense for us to provide testing solutions using CPRI to help them accomplish their installation validation," stated Roger Paje, Chief Operating Officer. "Now, users can control the RRH to run tests previously not possible without the BBU."
Version 3.0 of the Integris 2000 has many other benefits including a reporting module that can save installation reports locally or to the cloud, and it is compatible with Integris 3000 RF over CPRI tester, giving technicians full RRH installation and RF testing capabilities in the same ruggedized chassis.
The product is available and ready today for Alcatel Lucent systems to perform polling tests to gather information from the remote radio. Ericsson support and full RF path testing for implied PIM and diversity imbalance is scheduled for release in Q4. Order lead time is approximately 6 weeks. More information can be found online at http://www.AbsoluteAnalysis.com.
About Absolute Analysis:
Absolute Analysis is a leading supplier of test and measurement solutions to the international telecom, datacom and military markets. It provides testing, measurement, recording and analytics systems based on its specialist sector knowledge and its proprietary software and hardware products. Customers include major manufacturers of mobile devices, chipsets and network equipment, mobile network operators, prime military contractors, and network infrastructure houses.
Contact
Tim New, Inside Sales, Absolute Analysis
tim(dot)new(at)absoluteanalysis(dot)com