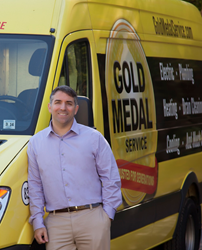 When residential furnaces fail, they typically do so during the coldest days of the year.
East Brunswick, NJ (PRWEB) September 08, 2015
The home heating professionals at Gold Medal Service encourage New Jersey residents to prepare their homes for the upcoming cold weather season. In addition to its award-winning heating, cooling, plumbing, waterproofing and electrical home service, Gold Medal now offers specialized services specific to pre-season home furnace maintenance.
"When residential furnaces fail, they typically do so during the coldest days of the year, which is why it's important to have these systems inspected before temperatures drop," said Mike Agugliaro, co-owner of Gold Medal Service. "An annual tune-up and inspection can help homeowners save money, maintain comfort and ensure safety when units are turned on for the first time in several months."
Pre-season furnace tune-ups benefit homeowners by contributing to lower repair costs, lower energy bills, improved efficiency and increased safety. In an effort to help New Jersey homeowners save money and maintain comfort, Gold Medal Service's residential furnace inspections review all components associated with home heating, as well as indoor air quality.
Because a faulty furnace can produce dangerous levels of carbon monoxide, the company's licensed technicians ensure units are completely leak-free and properly ventilated in an effort to identify and repair any damages. In certain situations, carbon monoxide detectors are also recommended to be installed during a residential furnace inspection.
"When a furnace leaks, carbon monoxide can enter a home, posing a danger to everyone inside," said Agugliaro. "This is one of the many reasons we encourage everyone to have an annual furnace inspection and tune-up as homeowners may not be aware of a faulty system until it is too late."
To find out more about Gold Medal Service's home furnace inspections and what homeowners can do to prepare for colder temperatures, visit http://goldmedalservice.com or call 1-800-553-6060.
About Gold Medal Service
Gold Medal Service, rated A+ by the Better Business Bureau, was founded in New Jersey in 1994 with just two employees. Their vision was to provide homeowners with a reliable and trustworthy home service company customers could count on to fix just about anything that could go wrong in a home. Since then, Gold Medal has grown to include more than 150 employees and technicians solving plumbing, heating, cooling, electric, drain, waterproofing, and sewer issues for homeowners across the state of New Jersey. Gold Medal Service is an Angie's List "Super Service Award" recipient. For more information, call 800-553-6060 or visit http://www.goldmedalservice.com.
###
For additional information, contact:
Heather Ripley
Ripley PR
hripley (at) ripleypr (dot) com
865-977-1973