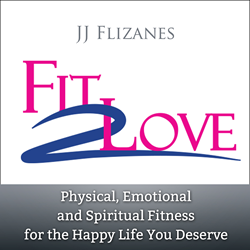 "They represent strength, determination, courage, acceptance and joy- that is what this show is all about." JJ Flizanes
Los Angeles CA (PRWEB) September 09, 2015
iTunes chart topping podcast show Fit 2 Love has just launched Season 2 and chosen The Special Olympics as its charity of choice. The show will donate a percentage of profits each month to The Special Olympics and encourage listeners and the audience to do the same.
JJ Flizanes, Host of The Fit 2 Love Podcast Show, has had intimate experience with The Special Olympics as she was growing up.
In 1992, in a church camp in Western Pennsylvania outside of Pittsburgh, she was a volleyball coach and camp leader for The Special Olympics. "I will never forget the impact it made on me," says Flizanes. "The athletes are filled with love and joy all the time and give it to everyone they meet. When I recently volunteered for the 2015 International Games held in Los Angeles, it was so clear that this organization represents the foundation of my show - self love and respect."
The Fit 2 Love Podcast Show is a 6 day a week video and audio podcast that features content about Exercise, Nutrition, Cooking, Hormones, Alternative Medicine, Psychology, Mindset, Spirituality, Law of Attraction, Dating, Integrative Medicine, Relationships, Law of Attraction, Astrology, Gluten & Dairy Free Recipes, Paleo Diet and all things Wellness and Self Help to create the best life you can. Season 2 launches September 9th, 2015.
JJ Flizanes, Director of Invisible Fitness, is an Amazon best-selling author of Fit 2 Love: How to Get Physically, Emotionally, and Spiritually Fit to Attract the Love of Your Life, and author of Knack Absolute Abs: Routines for a Fit and Firm Core. She was named Best Personal Trainer in Los Angeles for 2007 by Elite Traveler Magazine. JJ vividly reminds us that the word 'fitness' is not just about the state of one's physical body, but also the factors which determine a person's overall well being. Flizanes has been featured in many national magazines, including Shape, Fitness, Muscle and Fitness, HERS, Elegant Bride, and Women's Health, as well as appeared on NBC, CBS, Fox 11 and KTLA.
"The Special Olympic athletes model strength, determination and yet simplicity of love and respect. They remind us what life and love are really about," says Flizanes.