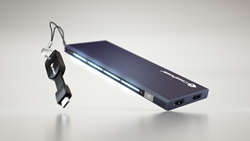 Backup battery in a thin and portable design.
(PRWEB) September 08, 2015
The new product line from CasePower is aiming at improving the charging experience for Smartphone and iPhone users.
The improvements they claim to make within the power segment includes both technology and design.
ICP Enhanced Technology
What they term "ICP Enhanced Technology" means Intelligent Charging and Protection with their own developed PCB that is said to speed up the charging while making it safe and "intelligent". The PCB is like "the brain" of the backup battery. Intelligent in the way that the Smart IC speeds up the charging process and automatically detects how much charge the device "wants" to have. The other point they make is to use top brands of battery cells like LG for stable and optimised performance and safety. The safety features also include protection against over-heating, over-charging and other safety features.
The Click-To-Go cable
CasePower include what they call a "Click-To-Go cable" with all their backup batteries. The cable is easily attached/detached from the backup battery to allow for easy charging and to stay organised. No need to look deep in your computer bag for your charging cable.
Design
They say they aim for a minimalistic design with details such as distinct power indicators and a thin and compact form factor. The range of portable rechargeable batteries are all thin and compact.
Feel free to contact us for further information.