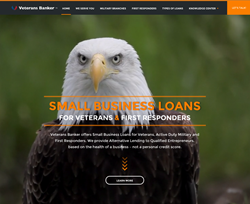 Spouses and family members are the backbone of support to the Veterans Banker community
(PRWEB) September 08, 2015
Interest free business loans are a rare commodity in the current world of small business financing. Veterans Banker, an organization that provides small business loans for veterans, announced that spouses of those who have served, or are currently serving in the military, are now eligible to apply for its innovative loan programs.
"There are more than 2.5 million veteran-owned businesses in the United States," said Thomas Garrett, a business development executive at Veterans Banker. "However, there are also millions of businesses owned by spouses of both current and former members of the military. This demographic is mostly ignored by traditional financing institutions and we are committed to filling that void wherever possible."
The interest free business loan concept is not new. For example, the State of Minnesota operates the Angel Loan Fund, which offers interest free loans to startup businesses in that state. The program is a government project offering small businesses a loan for seven years at a zero-percent interest rate.
In most instances, these loans can be used for startup costs, working capital, business acquisitions and expansions, franchise financing, equipment loans, inventory financing, construction, and commercial, non-passive real estate acquisitions.
While programs like Minnesota's "Angel" fund are geared to startups, Veterans Banker focuses on existing, established businesses looking to grow in this modern age of 24/7 communication and commerce.
To qualify, businesses must have:

More than $100,000 in gross annual revenue;
Been in business more than nine months; and
Been approved for a Veterans Banker Term Loan at the onset.
Although past bankruptcies and bad credit do not disqualify owners, the most competitive programs are reserved for higher quality candidates due to the competitive nature of the interest free business loan program.
"Spouses and family members are the backbone of support to the Veterans Banker community, which is why we decided to partner with them by offering creative financing solutions," said Garrett. "Our objective is to provide alternative financing options when banks say no, and then reward successful business efforts with a 100 percent refund of the interest payments made during the course of the loan."
Program Advantages

Interest payment reimbursement
Business development resources
Global partner
Technology
Media
Program Requirements

Due diligence required
Growth expectations
Business Plan must be submitted
Objectives must be achieved
Program Details

Must be approved for a Veterans Banker Term Loan at onset
Maximum loan amount for the Interest Free Program is $500k
Term Loans approved for a 12-60 month duration are eligible
Program Process

Apply for a Veterans Banker Term Loan and get approved.
Receive funding in as little as 24 hours.
Term Loan's End: Enrollees will be contacted by Veterans Banker to discuss their business.
Enrollees will get the opportunity to present their success to Veterans Banker.
2016 Program Enrollment: January 5 through 31.
Company Information:
New York, NY - Veterans Banker offers Small Business Loans for Veterans and First Responders.
Through a National network of alternative lenders and financing outlets, the organization introduces bridge financing solutions to qualified entrepreneurs looking to grow their small business.
The community served by Veterans Banker is large, influential, and attractive to lenders and service providers, which compete for the community's business. The organization assists veterans from all branches of the military, as well as first responders, with the process of building a successful small business through creative financing.
Combined with the unique resources offered through their concierge services division, Veterans Banker stands alone in the effort to serve those entrepreneurs who have served their country.
Public Relations:
Tom Delamater
Veterans Banker
330-437-5975