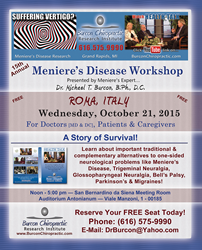 Dr. Burcon gave Kris her life back, and gave me my wife back, Greg Wieman.
Grand Rapids, MI (PRWEB) September 08, 2015
Finally, after over one hundred and fifty years, the most common cause of Meniere's disease has been discovered. Michael T. Burcon, B.Ph., D.C. started researching Meniere's disease (MD) sixteen years ago after having three MD patients quickly recover from their vertigo under cervical specific chiropractic care. Dr. Burcon has presented his Meniere's research to more than 1,000 doctors of chiropractic at Sherman College of Chiropractic, Palmer College of Chiropractic and New Zealand Chiropractic College; and more than 1,000 Ear, Nose, and Throat surgeons at Cleveland Clinic, the Prosper Meniere Society in Austria, and the International Symposium on Meniere's Disease at the House Ear Institute in California, and the Kyoto International Convention Center in Japan. His papers have been published in the Journal of Vertebral Subluxation Research, The McCoy Press and the textbook, Upper Cervical Subluxation Complex, a Review of the Chiropractic and Medical Literature.
Dr. Burcon will give his latest paper, "Cervical Specific Protocol and Results for 300 Meniere's Patients Followed for a Minimum of Five Years," to the Seventh International Symposium on Meniere's Disease in Rome, Italy on Monday, October 19, 2015 at 5:30 pm in the San Francesco hall at the Auditorium Antonianum, 1 Viale Manzoni. The topic is Clinical Issues. He will also make himself available for patient consultations, technique demonstrations and interviews during his week in Rome, October 16 through 22, 2015. The abstract is attached. The full paper is available from The McCoy Press.
At Noon on Wednesday, October 21, Dr. Burcon is giving a demonstration of his 10 Step Protocol for treating Meniere's Disease and other one-sided neurological disorders like Trigeminal Neuralgia, migraines, Bell's palsy, Parkinson's and Glossopharyngeal neuralgia. It will take place in the San Bernardino da Siena hall at the Auditorium Antonianum, 1 Viale Manzoni, Rome, Italy. It will be helpful for medical doctors, chiropractors, TMJ dentists, students, therapists, Meniere's patients and their caregivers. There is no fee, but you must register by emailing DrBurcon(at)yahoo(dot)com.
"Our understanding of Meniere's disease is being revamped. For decades, the condition was thought to be caused by excessive fluid retention (hydrops) in the endolymphatic spaces of the inner ear, which led to tears or ruptures of the membranous structures that affect hearing and balance. Recent research has shown that hydrops is not always associated with Meniere's and ought not to be considered the ultimate cause of its symptoms," says Norman Berlinger, MD.
To most people in the medical community, Meniere's disease is a mysterious condition—I say mysterious because although it has been known for more than 150 years, doctors still don't know what Meniere's disease really is. Unlike a typical disease where doctors can define it and test to see if you have it or not, Meniere's disease is not a disease as such. It is a collection of symptoms. Thus, it should more correctly be called Meniere's syndrome.
Since doctors can't "find" Meniere's disease—they can't put their finger on it and say, "here's your problem"—they diagnose Meniere's disease by the process of elimination. They rule out everything else that "looks" somewhat like Meniere's disease. Thus, Meniere's disease is what doctors call an idiopathic disease.
"Idiopathic" is just a medical term that means "unknown". Doctors are saying they don't know what Meniere's disease is, don't know what causes it, and consequently, don't know how to effectively treat it.
Now for some good news. Although medical doctors may not know much about Meniere's disease, and apparently have mostly been "barking up the wrong tree" all these years, that's not to say that no one knows anything about the basic causes of, and effective treatment for, Meniere's disease.
Surprisingly, one of the most common factors that result in Meniere's disease is quite simple to ascertain. Even better, the treatment can be fast, simple and painless. What's amazing is that it has taken all these years for someone to figure this out. Furthermore, the solution was serendipitous. It did not come about through a lot of scientific research. Here's the story.
In the year 1999, upper cervical chiropractor Dr. Michael Burcon made an intriguing finding. (Note: upper cervical chiropractors specialize in adjusting the top two vertebrae in your neck.) Three of his patients quickly recovered from their vertigo after receiving upper cervical specific chiropractic treatment. Imagine the unmitigated joy these three experienced when they realized that the vertigo that had plagued them for years had miraculously vanished. This is a far cry from how people with Meniere's sometimes come to him. As Dr. Burcon ruefully admits, "I've had people crawl down my office floor to the wastebasket and vomit from the nausea of Meniere's," by Neil Bauman, Ph.D.
Burcon has established a link between both Meniere's disease and Trigeminal neuralgia (TN) with whiplash injuries that misalign the base of the skull with the top of the neck creating a lesion affecting the Eustachian tube and the Trigeminal ganglion. Half of these traumas are caused by vehicular accidents and half from injuries involving head trauma. Burcon believes that the correlation was not made because it takes an average of fifteen years from the time of the trauma until the onset of symptoms.
Patients typically get diagnosed with MD or TN in middle age. Their injuries most often happened during high school or college years from a car accident, sports injury or fall on their heads. Few patients list these old injuries on their doctor's admission paper work. In fact, they have often forgotten about them, believing they were not hurt if they were not admitted to the hospital.
Burcon will also be available for consultations in Las Vegas during the Blair Chiropractic Society's Annual Conference on October first through the third. He will be giving a free Meniere's presentation at his Lake Eastbrook Office Building's Conference Room behind Center Point Mall in Grand Rapids, MI in December during his 16th Annual Practice Anniversary Celebration. They are currently expanding and remodeling the office to better serve you. Burcon has produced five Health Talk videos for GRTV. They are available on YouTube through a link on his website http://www.BurconChiropraction.com.
Every year, hundreds of patients from all over the world visit Dr. Burcon in Grand Rapids, MI. His wife, Jane, is their medical travel concierge. She will assist you before, during and after your visit. The Institute is ten minutes from GRR airport and there are ten hotels within one mile of the office. There are dozens of restaurants close by, but they recommend a property with a kitchenette to help you stay on your low salt diet. When you are feeling better, you may decide to visit Frederik Meijer Gardens & Sculpture Park, which is close by. You arrive and depart on Sunday, with twelve visits of intensive care during the week with Dr. Burcon. Call Jane at 616.575.9990 or e-mail JSchanerBurcon(at)aol(dot)com.