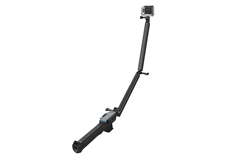 Newport Beach, C.A. (PRWEB) September 10, 2015
Today, PolarPro, a manufacturer of professional-grade action camera accessories for the action sports, outdoor and consumer markets, announced the launch of its latest Kickstarter campaign for the PowerGrip H2O, the world's first waterproof, battery-integrated extension pole system for GoPro® and smartphone shooters. Launching today, the 30 day Kickstarter campaign offers several bundle options with PolarPro's newest innovative accessories including a waterproof LED light bar, smartphone mount and carry case. For more information on the PowerGrip H2O and available backer packages, please visit: https://www.kickstarter.com/projects/444368761/powergrip-h2o-waterproof-battery-powered-gopro-gri
For off-the-grid selfie shooters and underwater adventure junkies, few things can be more frustrating than the constant drain of the notoriously-short GoPro battery life. With the PowerGrip H2O's built-in 6,700 mAh Lithium battery, users can be assured up to 12 hours of shooting when connected to the two onboard USB ports, the equivalent of more than six fully-charged GoPro batteries. While the PowerGrip H2O is water resistant for use in snow, sleet and rain, with its add-on Waterproof Live Charging Kit users can follow the action anywhere, easily transitioning from theme park selfies, to snowy mountain peak POVs, to deep blue adventure down to 99 feet. With the add-on Waterproof LED Light Bar, the experience doesn't need to end when the sun goes down; this compact 450 lumen constant light source fits between the grip and camera mount to make a streamlined lighting solution for scuba diving or night filming.
Crafted from extremely durable glass filled nylon capable of standing up to the most extreme adventure sports conditions, the PowerGrip H2O features a tread-molded rubber grip to ensure a secure hold in the wettest conditions. Extending from its lightweight (only 9.5 oz.) and compact 11 inch battery-integrated base grip, to 22 and 33 inch configurations (15 oz. in total) that can be positioned to keep the pole out of the POV shot entirely, the PowerGrip H2O is a selfie fanatics perfect companion. The integrated battery is housed in the base grip for balanced handling, and battery power is delivered to the tip of the folding PowerGrip H2O via a hide-away cable.
"Our products are influenced by our passion for capturing epic content throughout our adventures in life," said Jeff Overall, CEO of PolarPro. "When we set out to design a single product that powered our cameras all day, allowed us to film from multiple perspectives, with the freedom to go anywhere the adventure took us, the result was a truly first-of-its kind uber selfie stick we've dubbed, the PowerGrip H2O."
Additional integrated features help make the PowerGrip H2O a truly universal accessory for every shooting situation. A ¼" 20 tripod mount on the base of the grip allows the unit (in its innumerable configurations) to be attached to extensive camera mounts, turning a standard stand into a powered tripod for extended video shots or time-lapses. Because hands-free shooting is often a priority for extreme POV action, the PowerGrip H2O includes a removable quick-release mount compatible with PolarPro's popular StrapMount system (which securely attaches directly to a backpack strap, scuba BCD, life vest, etc.). Each PowerGrip H2O also includes a selfie mount compatible with most popular smartphone models.
The PowerGrip H2O was designed as a modular system allowing users to mix and match varying accessories to meet the unique demands of their individual POV and selfie needs, including:

Waterproof Live Charging Kit – In its basic configuration, the PowerGrip H2O is water resistant to cover most conditions; to make the unit fully waterproof down to 99 feet, users can simply add the Waterproof Live Charging Kit which upgrades the interchangeable door covering the USB connections to one with an embedded power cable that connects to a waterproof backdoor for the GoPro camera.
Waterproof LED Light Bar – Designed to attach in-between the PowerGrip H2O's base and a GoPro camera, this compact 450 lumen LED light bar is bright enough to illuminate late night selfies or that nighttime ski run. Used in conjunction with the Waterproof Live Charging Kit, the light bar can also be deployed for underwater shoots that demand added light.
PowerGrip H2O Carrying Case – Ensuring adventure shooters never leave home without their PowerGrip H2O, PolarPro has redesigned its Trekker Case to accommodate the new product and its associated accessories. The case's water resistant ballistic nylon exterior shell insulates protective foam inserts which snuggly fit two GoPro cameras (in their housings), with designated laser-cut slots for the kits and accessories mentioned above, along with a zippered pocket for cords and other loose accessories.
For more information on the PowerGrip H2O please visit the Kickstarter campaign page and to learn more about the entire PolarPro product line up, including accurate pricing and retail availability, please visit: http://polarprofilters.com.
About PolarPro
PolarPro is a leading manufacturer of action camera accessories and mounts designed to improve the filming experience with GoPro®, Sony® POV Action Cams and other more traditional photographic solutions. Founded in 2011 at the University of California, Santa Barbara (UCSB) with the creation of its first small, polarized filter, PolarPro has experienced explosive growth and now distributes its solutions to more than 500 locations worldwide. With a dynamic team of young and innovative employees, Polar Pro continues to find new ways to improve the filming process. For more information on Polar Pro visit http://polarprofilters.com, or follow the brand on Facebook, Instagram, Twitter, and YouTube.
###
Media Contact:
Zach Heath
zach (at) engagecoms (dot) com
(401) 559-7350