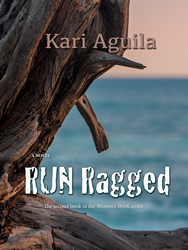 RUN Ragged is a chilling exploration of the intersection of race, gender, and power.
Seattle, WA (PRWEB) September 08, 2015
Author Kari Aguila is turning to Kickstarter.com to raise funds for her latest feminist novel, RUN Ragged, a harrowing suspense story about the intersection of gender, race, and power. With recent celebrity conversations about feminism, including heated comments by Nicki Minaj at the Video Music Awards and Emma Thompsons Vulture interview, readers are seeking stories with in-depth explorations into the topic of equality.
Aguila's novel, RUN Ragged, examines the issues of gender inequality in a dystopic future where women have taken charge of government. It is a timely and thought-provoking story that has received advance praise. Author Petula Parker says, "RUN Ragged is an insightful and harrowing examination of the swinging pendulum of gender oppression. Perhaps the book's greatest strength lies in the questions it poses that invite contemplation long after the book is over. A strong storyline, complex characters, and chilling exploration of the politics of power make this a gripping read."
Aguila's first novel, Women's Work, won an IndieReader Discovery Award and was chosen as one of the Best Books of 2014. Her growing fan base will be a critical part of spreading the word about the latest Kickstarter project. Said Aguila, "Readers and books clubs have been so passionate about my novels. The complex themes and characters have struck a chord with women and men tired of the polarizing way feminism is discussed in the media. The greatest trick misogynists played was convincing people feminism meant man-hating."
In line with Kickstarter's guidelines, artists have a set number of days to raise all the funds, or the project receives nothing. Aguila's book has a 34-day fundraising window, from start to finish. If the allotted budget ($7,000 US) isn't raised before October 10, all pledges are cancelled and the book will not be funded. When asked why Kickstarter was appealing, Aguila said, "Kickstarter is a way for people to have a direct impact on projects they're passionate about, and a way for authors to reach a new global audience." Kickstarter has the ability to receive funds from anywhere in the world.
If the book is successfully funded, it will be available in E-Reader formats and paperback in December. To learn more about the Kickstarter campaign for RUN Ragged, readers can visit the project's pitch page.