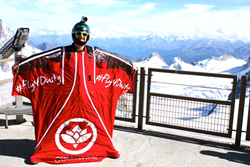 We share a commitment to research and development, and the stakes are high
Newport Beach, California (PRWEB) September 07, 2015
A collaboration between a leading manufacturer of BASE jumping and wingsuit flying equipment and a local charity, is raising awareness worldwide for Duchenne muscular dystrophy, the most common fatal childhood genetic disease. Coalition Duchenne executive director Catherine Jayasuriya, based in Newport Beach, commissioned the first bright red Coalition Duchenne wingsuit in 2013 as part of her quest to inform people worldwide about Duchenne. Seattle-based wingsuit manufacturer Squirrel responded by incorporating Coalition Duchenne's distinctive lotus logo on their best selling Aura model. They also developed a matching canopy that has been used at spectacular BASE jumping locations in North America, China, SouthEast Asia and Europe. Coalition Duchenne and Squirrel are proud to be a part of World Duchenne Awareness Day, which is being observed on September 7 this year.
The second generation Coalition Duchenne wingsuit uses Squirrel's newly released Aura 2 model. Created by a team of pilots, including CEO Matt Gerdes, the Aura 2 is designed for fast proximity flying with total control. Wingsuits are complex nylon aerodynamic extensions of human limbs that allow for human flight, and exhilarating forward motion while slowing descent. The Aura 2 helps the pilot quickly reach speeds of up to 150 miles per hour and fly for up to three miles.
Scotty Bob Morgan, a Squirrel test pilot, has flown the Coalition Duchenne wingsuit all over the world. "People are quite curious when you are flying a red wingsuit with a flower on the back and want to know what it is all about," said Scotty Bob. He used the wingsuit in Borneo's first ever wingsuit flight as part of Coalition Duchenne's annual Expedition Mt Kinabalu which sees climbers from around the world climb 14,000 ft. Mt. Kinabalu for Duchenne awareness. The BASE jumpers use the hashtag #Fly4Dusty to refer to Catherine's 22-year-old son Dusty Brandom who has Duchenne.
Wingsuit pilots participate in a challenging, dangerous sport and can relate to the losses experienced by the Duchenne community. In March 2014, one of the most experienced, professional wingsuit pilots, New Zealander Dan Vicary, lost his life in a tragic accident in the Swiss Alps. Dan was strongly committed to the Coalition Duchenne cause.
Industry leaders like Squirrel are pushing for greater safety in the sport, and are developing increasingly technologically advanced flying suits.
"We share a commitment to research and development, and the stakes are high," said Catherine of the depth of the bond with Squirrel. "We are excited that our funding of cardiac and pulmonary research, particularly cardiac stem cells is beginning to take flight."
Coalition Duchenne's vision is to change the outcome for boys and young men with Duchenne, to rapidly move forward to a new reality of longer, fulfilled lives, by funding the best opportunities for research and creating awareness. The charity's most recent success has been the promising translation by California biotech Capricor Therapeutics of Coalition Duchenne funded cardiac stem cell research by Eduardo Marban at Cedars Sinai Medical Center in Los Angeles.
For more information about Coalition Duchenne, Catherine Jayasuriya and Dusty Brandom, visit coalitionduchenne.org and dustystrail.com.
For more information about Squirrel visit squirrel.ws.
Duchenne Muscular Dystrophy
Duchenne muscular dystrophy is a progressive genetic muscle wasting disease. It is the most common fatal disease that affects children. Duchenne occurs in 1 in 3,500 male births worldwide, across all races, cultures and countries. Duchenne is caused by a defect in the gene that codes for the protein dystrophin. This is a vital protein that helps connect the muscle fiber to the cell membranes. Without dystrophin the muscle cells become unstable, are weakened, and lose their functionality. Life expectancy ranges from the mid teenage years to the mid 30s. Minds are unaffected but dreams are shattered.