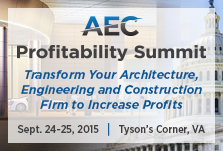 "My goal with putting this unique panel of industry specialists together is to facilitate an excellent opportunity for forward thinking leaders interested in taking their firms to the next level by transforming employee behavior." - June Jewell
Reston, VA (PRWEB) September 09, 2015
The call for presenters for the AEC Profitability Summit put out the challenge to A&E industry experts to come up with innovative ideas and solutions to increase profitability for A&E firms. The competition to speak at the Summit was fierce, and selections were made based on originality, and compatibility with the theme of the Summit - hands-on implementation of strategy and tactics to increase profits. Ultimately, those who offered the best topics, along with tools, templates, checklists and other worksheets for the Summit were selected for one of the five powerhouse sessions.
"Each of the presenters was hand-selected because of their extensive experience in the A&E industry," states June Jewell, AEC Business Solutions President and founder of the Summit. "My goal with putting this unique panel of industry specialists together is to facilitate an excellent opportunity for forward thinking leaders interested in taking their firms to the next level by transforming employee behavior."
Scope creep and failure to bill for extra services is one of the top reasons A&E firms lose money on projects. In "Developing a Process to Manage Extra Services Requests and Reduce Scope Creep", June Jewell and Douglas Reed, P.E. of Foster Growth will provide a template for creating your own custom scope management process. It will cover all areas that affect scope creep including establishing requirements, client communication, kick-off meetings, tracking and billing extra services and employee education.
June Jewell, is the bestselling author of "Find The Lost Dollars: 6 Steps to Increase Profits in Architecture, Engineering and Environmental Firms," and has nearly 30 years experience in developing successful competitive business strategies. Douglas Reed, an engineer for more than 30 years and P.E. of Foster Growth, helps CEOs and executives secure their future by fine-tuning their company's processes, culture, and systems to achieve safe growth, increased profitability and a comfortable financial position.
The "Five Keys to Project Profitability" session, led by Bo Newman, CPA, and CFO of Cuhaci & Peterson Architects, Engineers and Planners will take a practical and real world approach to vital project performance metrics. Mr. Newman is passionate about teaching others the "business side" of the design industry and works diligently to help project managers deliver profitable projects.
"Leveraging Your Strategic Plan for Improved Firm Performance" will examine how to link implementing a plan to improving financial performance, and gauge the beneficial impact. This session will be led by Ray Kogan, President of Kogan & Company, and Cara Bobchek, a Senior Consultant with Kogan & Company. Mr. Kogan brings more than 30 years of experience in the practice, marketing, and management of architecture, engineering, and construction services. As a strategic planning advisor for the last three decades, Ms. Bobchek studies the management, operational, organizational, marketing, and performance issues facing design firms.
Leadership & Workplace Communication expert Skip Weisman will lead attendees in creating a more proactive and collaborative process in the "6 Steps to Create a Performance Management Process that Improves Profits" session. As a former professional baseball executive, Mr. Weisman works with business leaders and their teams to improve communication in the workplace, generating greater top line revenues and bottom line results.
With a 20-year career spanning visual communications, strategy, and marketing, and over a decade working in the AEC sector, Sylvia Montgomery, CPSM, Senior Partner at Hinge brings a creative, business-focused approach to her client engagements. In her session, "5 Marketing Strategies to Increase Your Fees" Ms. Montgomery will offer strategies to help break the trap of commoditization that plague many A&E firms, and provide real advice to allow them to increase their fees.
Debora McLaughlin is CEO of the Renegade Leader Coaching & Consulting Group and bestselling author of The Renegade Leader, Nine Success Strategies Driven Leaders Use to Ignite People, Performance & Profits. She will lead an Executive Mastermind Roundtable session with Ms. Jewell to help C-level executives discuss their challenges in implementing change and getting buy-in from staff.
Humorist and author of "Do it Well. Make it Fun. The Key to Success in Life, Death, and Almost Everything in Between", Ron Culberson is a recognized expert on the benefits of humor and laughter and will delight attendees with his keynote address at the Summit dinner.
"We challenged our presenters to explore new ways of increasing profits and what they came up with is fresh, innovative and will transform the way firms do business", says Ms. Jewell. "They are providing their proprietary assessments, tools, templates, checklists and worksheets to make sure our particpants leave with material they can put in place immediately."
Learn more about the AEC Profitably Summit – September 24 – 25, 2015 at http://aecbusiness.com/summit/
This conference is eligible for 8 to 10 Continuing Education Credits.
________________________________________
About AEC Business Solutions
AEC Business Solutions, LLC is committed to helping AEC firms make more money on projects. It is our mission to work closely with our clients in providing tools, training and assessments that will help them find the lost dollars in their business. We have developed innovative solutions that help A&E firms to transform their organizations, holding staff accountable to goals and actions, giving them a measurable return on investment.
http://www.AECBusiness.com