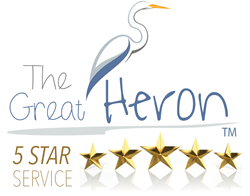 Expect Consistent Service and Quality at The Great Heron.
Houston, Texas (PRWEB) September 08, 2015
Remember when businesses made customer service a priority? Suddenly phone calls have been replaced with emails, and people have been replaced with robots who can't deviate from a script. There are still a few businesses that are putting customers 1st, and from unexpected free gifts, to the handwritten "Thank You" notes, The Great Heron is certainly one of them. It's no surprise that they are already on top of the home and garden decor industry after just one year in business.
At The Great Heron, their top priority is making sure their products and services are always exceptional. Owners, Devon and Erin Hudson, just reached their first anniversary of being in business and now they are ready to let the whole world know who they are, what they do, and what you can expect from them. Providing quality products in a large and spectacular variety while treating their customers, as they would want to be treated in every situation. Judging by the reviews from their customers, their track record has been second to none.
Their product selection consists of hand-selected home and garden decorations for every season. You will be able to keep your home looking spectacular any time of year with their cute and unique products. Whether it's Valentine's Day, Easter, Spring, Summer, Fall, Halloween, Thanksgiving, or Christmas, celebrate every season at The Great Heron.
Right now, they are showcasing new primitive fall decor, fall table decor, Thanksgiving centerpieces, and handcrafted Christmas decorations. With the holidays coming up, many of their customers are looking for decorating ideas that will make their homes look festive and feel inviting. They also offer coupon codes and free shipping on all orders over $50.
If you would like to contact The Great Heron, their friendly customer service professionals are available via phone, so you can get the quality customer service that only comes with speaking to a real person. Try out The Great Heron and experience shopping for home decor the way it was meant to be....the old-fashioned way and with people who are committed to your satisfaction and happiness.