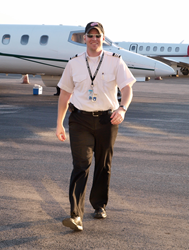 Fort Lauderdale, FL (PRWEB) September 08, 2015
Contact: Bryan Glazer ▪ World Satellite Television News ▪ 212-673-4400 ▪ Bryan@Televisionews.com ▪
REVA Air Ambulance company's worldwide jet fleet is grounded today in observance of one of its youngest captains' funeral, which comes in the wake of his tragic, headline news-making car crash on South Florida's Interstate 95.
During the past four years, Captain Patrick Gustin piloted medical evacuation flights between six continents -- shuttling injured and ill Americans abroad to U.S. hospitals; airlifting premature babies to critical care units and flying people of all ages, with various conditions, for urgent treatments.
"Captain Gustin's willingness to 'push the envelope' saved the lives of many of his patient-passengers," says REVA Air Ambulance company spokesperson Kendal Stoltz.
Just a few miles from the company's headquarters at Fort Lauderdale Executive Airport, FL, the 35 year-old pilot was driving his 1999 Porsche 911, when, "for an undetermined reason, the vehicle veered to the right and left the roadway onto the grass shoulder and struck a (palm) tree," according to the Florida Highway Patrol.
Gustin died of sudden impact injuries. He was wearing his seatbelt. No other vehicles were involved in the 3:15 AM early morning crash, last Thursday. The cause of the crash remains under investigation, according to FHP.
(Sources: September 3, 2015 Sun Sentinel & WPLG-TV : http://www.sun-sentinel.com/local/broward/fl-i-95-porsche-fatal-20150903-story.html --- http://www.local10.com/news/driver-killed-after-porsche-crash-on-i95-in-fort-lauderdale/35079294 )
Love at First Flight:
Gustin's father, Michael, is a Fort Worth, TX oil and gas explorationist with worldwide and South Florida business interests. He recites, "One of Patrick's instructors at Daytona Beach, Florida's Embry-Riddle Aeronautical University characterized my son as, 'A Natural.' "
Captain Gustin graduated Embry-Riddle in 2005 with a B.S. in Aeronautical Sciences. He has held several pilot positions since then. Gustin joined REVA Air Ambulance in 2011.
"Patrick excelled in his role as first officer and was promoted to Captain in less than two years," says Stoltz. "That is an exceptional escalation in rank in the aviation industry. Advancing to captain status, at many carriers, is a decade-long process."
His mother, Cindy Gustin, recalls, "It was love at first flight." She continues, "When Patrick was 16, he flew a demonstration instruction flight. When he stepped out of the cockpit and onto the tarmac he looked at his father. Patrick was grinning from ear-to-ear. My reaction was, 'uh oh, I think we're in trouble! He's gonna want to fly!' And fly he did."
Farewell Facebook Communique:
On Captain Gustin's Facebook page, a colleague blogged this air-traffic style farewell communique:
Pilot:
"Ft. Lauderdale Tower, Medevac 111 Whiskey Bravo requests change in IFR Flight Plan ?"
Tower:
"Go ahead Medevac 111 Whiskey Bravo."
Pilot:
"Medevac 111 Whiskey Bravo requests new destination. Flight to Heaven! Time enroute: indefinite."
Tower:
"Roger Medevac 111 Whisky Bravo is cleared to Heaven with an unrestricted and unlimited climb."
Pilot:
"Medevac 111 Whiskey Bravo is rolling and on the go. Thanks for all your help over the years. Until we meet again… Farewell My Friends."
About REVA Air Ambulance:
REVA Air Ambulance employs upward of 300 people in the U.S. and Puerto Rico. The company operates 15 medivac aircraft. Its fleet includes 12 Series 35 Learjets, two Cessna Series 500 Citation jets and one Cessna 402 prop-plane.
The company is headquartered at Fort Lauderdale Executive Airport, FL. It also operates facilities at Sky Harbor International Airport, Phoenix, AZ and at Luis Muñoz Marín International Airport, San Juan, PR.
"Typically, each flight crew consists of a captain, co-pilot and two medical professionals," explains Stoltz. "Depending on the patient-passenger's condition, a doctor is aboard but more often a nurse and paramedic are on the flight."
REVA Air Ambulance's roots date back to 1996 when the company Aerojet was founded. It merged with Air Ambulance Professions in 2013 to form REVA Air Ambulance.
The company is part of a global medevac network, empowering REVA to arrange for private medical air transportation from virtually any point on the planet to the U.S. and elsewhere.
Funeral Scheduled:
Patrick Brent Gustin grew-up in Whitney, TX. It is a rural community 37 miles northwest of Waco; 69 miles south of Fort Worth. He is survived by his father Michael, his mother Cindy, brother Sean and dozens of other family members and hundreds of friends and work colleagues.
Funeral services are scheduled for 11:00 AM (EDT), Tuesday, September 8, 2015 at Glick Family Funeral Home, Boca Raton, FL.
Flyover Salute:
The company says it is organizing a jet aircraft flyover salute for some time after the funeral.
Air Ambulances Will Fly Again:
The company anticipates resuming normal flight operations on Wednesday.
Contacts:
▪ Kendal Stoltz ▪ REVA Air Ambulance ▪ 954-730-9300 ▪ KStoltz(at)FlyReva(dot)com ▪
▪ Bryan Glazer ▪ World Satellite Television News & Media Relations ▪ 212-673-4400 ▪ Bryan(at)Televisionews(dot)com ▪
30-30-30-30-30-30